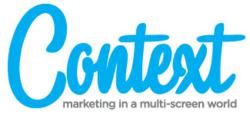 Dramatic shifts in consumer media consumption are forcing marketers to fundamentally rethink how they reach and engage audiences across an ever-expanding universe of devices, channels and platforms
Chicago, IL (PRWEB) February 04, 2013
Rising Media, a global producer of marketing and technology-related events, today announced the preliminary keynote lineup for Context: Marketing in a Multi-Screen World. The event takes place June 11-13 at the McCormick Place West in Chicago.
Many of the world's top brands will attend as industry leaders examine how mobile and multi-screen technologies are enabling marketers to engage with their customers and prospects in richer and more contextually relevant ways. Attendees will participate in visionary keynotes, interactive sessions, and live demos from top solution providers.
Confirmed keynote speakers include:

Jonathan Mildenhall, VP of Global Advertising Strategy, The Coca-Cola Co.
Mike Boush, Head of Digital and VP of E-Business, Discover Financial Services
Dan Vinh, VP of Global Marketing, Renaissance Hotels, Marriott Corp.
Dennis Maloney, VP of Multimedia Marketing, Domino's Pizza
Jonathan Stephen, Head of Mobile, JetBlue
Tim Reis, Head of Mobile & Social Platforms (Americas), Google
Dounia Turrill, SVP of Client Insights, Nielsen
Gian Fulgoni, Executive Chairman and Co-Founder, comScore
Robert Scoble, author and tech blogger/evangelist
Brian Solis, author, Engage! and The End of Business as Usual
Shel Israel (author and writer, Forbes)
Joe Pulizzi, Founder, Content Marketing Institute
Comment on the News
"Dramatic shifts in consumer media consumption are forcing marketers to fundamentally rethink how they reach and engage audiences across an ever-expanding universe of devices, channels and platforms", said Tom Bliss, producer of the event. "The success of brands going forward will hinge on their ability to deliver real consumer value, convenience and utility" he said. "Giving it to them means being ridiculously relevant and relentlessly context-driven at every customer touch point. The Context keynote program brings together some of the smartest people in marketing and technology to help brand marketers frame out their multi-screen consumer engagement strategy."
Context Hits the Windy City
Context attendees get front-row access to:

Inspirational keynotes from top global brands including The Coca-Cola Company, Domino's Pizza, JetBlue, Renaissance Hotels and Discover Financial Services.
Dozens of interactive sessions led by experts from Ogilvy, Forrester Research, Gartner, Real Story Group, Latitude Research and many others.
Live demos from top providers of contextual/multi-screen marketing solutions.
Topics to be covered include:

Mobile & multi-screen engagement (content types, analytics, applications, cross-screen usage trends)
Content strategy (by channel, vertical, device)
Dynamic publishing (real-time, personalized, automatically - and dynamically-generated content)
Multi-screen UX / UI design principles (scalable, responsive, adaptive, interactive, customer journey mapping)
Emerging technologies (addressable/social TV, wearable computing, advances in device sensing capabilities)
Social channels, communities, location-aware computing, gamification, crowdsourcing
Data Analysis (Big Data, cross-channel/multi-channel performance metrics, sentiment analysis, decision management/predictive analytics/behavioral modeling, Complex Event Processing (CEP), interaction history analysis, BPM and Adaptive Case Management (ACM) for engagement mapping, Master Data Management (MDM)
Additional Information
About Context Conference
Context brings together senior-level brand marketers and advertisers looking for new ways to engage today's multi-screening consumer. Attend and learn how some of the world's biggest and most forward-thinking brands are merging data science and creativity to deliver rich and relevant cross-screen customer experiences.
About Rising Media
Rising Media is a global events producer excelling in Internet and technology-related conferences and exhibitions. Rising Media-produced events include Data Driven Business Week, eMetrics Summit, Conversion Conference, DemandCon, GAUGE, Predictive Analytics World, Text Analytics World, Affiliate Management Days, Building Business Capability, Social Media Economy Days, Web Effectiveness Conference, Search Marketing Expo, SemTech and Social Gaming Summit in the US, Canada, UK, France, Germany, Sweden, Finland and Australia.