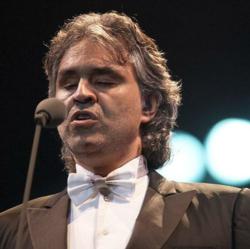 Denver, Colorado (PRWEB) February 04, 2013
Noted opera and pop music singer, Andrea Bocelli has been hitting the high notes for decades, much to the appreciation of audiences around the world.
After winning the Newcomers section of the Sanremo Music Festival in 1994, the multi-talented 54-year-old musician has gone on to record 14 solo studio albums comprised of both pop and classical music, three greatest hits albums and nine complete operas.
Along the way, he has sold over 80 million records worldwide – making him the biggest-selling artist in the history of classical music. (Source: BBC News, 9/6/12)
Now, he's back on an abbreviated U.S. tour. After opening at the BB&T Center in Sunrise, Florida on February 8, 2013, Bocelli performs at the Pepsi Center in Denver, Colorado on June 5th.
He's booked for the Hollywood Bowl in Los Angeles on June 8th and the Honda Center in Anaheim, California on June 9th. His next scheduled performances are at the Prudential Center in Newark, New Jersey on June 12th and the Times Union Center in Albany, New York on June 13th.
"Due to his upcoming U.S. performances, Andrea Bocelli tickets are causing a high volume of search traffic for seats right now," said Felina Martinez at online ticket marketplace BuyAnySeat.com.
"So far, the singer is scheduled for only seven performances in the U.S., which has dramatically increased the demand for tickets. Although many of the venues are beginning to fill up, we're proud to be offer fans a great selection of Andrea Bocelli tickets, with a worry-free guarantee to protect their purchase," said Martinez.
"To access the complete selection of cheap Andrea Bocelli tickets we now have available, customers can go to BuyAnySeat.com and search for Andrea Bocelli – then select their tickets," said Martinez.
Born September 22, 1958 in Pisa, Toscana, Italy, Bocelli suffered from poor eyesight as a child. Then, tragically, he was completely deprived of his eyesight at the age of twelve following a football accident.
But, as he soon discovered, partly as a result of his blindness, he was blessed with a heightened and extraordinary sensibility – one that enabled him to excel in his interpretation of lyrics and in his perception of the subtleties of musical expression.
Critics note that Bocelli exhibits a rare signature timbre that is rich, full and powerful. In addition, he has a unique versatility that ranges from the bel canto to the furor of the Verismo – and encompasses everything from the sacred repertoire to the popular ballad.
Lauded as both an opera singer and pop vocalist – as well as a musician, songwriter, and record producer – Bocelli is also a master of many instruments, including: the keyboards, flute, saxophone, trumpet, trombone, harp, harmonica, guitar, drums and melodica.
As of the current date, Andrea Bocelli's final scheduled U.S. performance is at the U.S. Airways Center in Phoenix, Arizona on December 8, 2013.
To shop for cheap Andrea Bocelli tickets, visit BuyAnySeat.com.
About BuyAnySeat.com: An online ticket marketplace, BuyAnySeat.com connects sports, theater and other live entertainment fans to an extensive worldwide network of ticket sellers. The site's simplified listings and navigational tools enable fans to easily locate, compare and purchase inexpensive, discounted or lower-priced tickets to virtually all advertised sports and entertainment events around the globe.
The site, which is PCI-compliant and Norton Secured, also provides customers with a complete Worry-Free Guarantee on all ticket purchases. Based in Denver, Colorado, BuyAnySeat.com is a subsidiary of Denver Media Holdings. For more information, please visit http://buyanyseat.com.