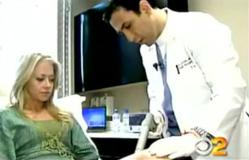 I often see cases in which patients go to extremes with their diet, causing more harm than good.
Los Angeles, CA (PRWEB) February 03, 2013
According to a January 29, 2013 US News & World Report article, a study published in January's International Journal of Obesity indicated that people who frequently eat a late lunch may not be as efficient in shedding extra weight as people who eat earlier in the day. Out of 420 obese or overweight individuals who participated in a program to lose weight over a five-month period, the group that ate their mid-day meal late lost 25% less weight compared to those who ate earlier than 3 o'clock in the afternoon. (go to goo.gl/QB6ke)
"It is often the case that studies like these make headlines," says Dr. Ourian, "and only later do we learn than the results are either inconclusive or can't be scientifically duplicated. I'll wait to see more data before I pass any recommendation on to my patients."
One concern is that the study's participants are from Spain, a country known for its big, hearty lunches. This factor may make it difficult to ascertain what impact the study will have in other countries. In the U.S., for example, lunches tend to be light while dinners tend to be heavier.
The reason behind why having a late lunch results in a slower rate of weight loss is still uncertain. It could be that the time period from one meal to the next may affect an individual's metabolism and his or her ability to burn off extra calories. The results may also have something to do with circadian rhythms, a biological process that influences many of the body's important functions including metabolism.
Dr. Simon Ourian, Medical Director of Epione Medical Corporation in Beverly Hills is an advocate of safe dieting. "If a patient asks," says Dr. Ourian, "I will recommend that the key to losing weight and keeping it off is really a lifestyle change that includes healthy eating and exercise. I'm glad when I can help a patient lose fat and get a jump start on their new body."
Dr. Ourian has been a pioneer in laser technology and non-invasive aesthetic procedures including Restylane, Botox, Juvéderm, Radiesse and Sculptra. These treatments are used for the correction or reversal of a variety of conditions such as acne, acne scars, skin discoloration, wrinkles, stretch marks, varicose veins, cellulite, and others. More information about using weight loss and fat reduction can be found on their website.