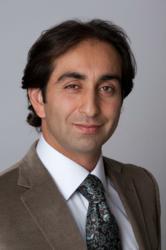 When a patient understands their risk factors for getting the disease, their chances of overcoming it are greatly improved because they know what to look for.
Beverly Hills, CA (PRWEB) February 13, 2013
According to new research, women aged 25-50 are at the highest risk for the development of thyroid cancer. Director of the CENTER for Advanced Head & Neck Surgery Babak Larian, MD, FACS, treats several patients each month who have become afflicted with the disorder. As one of the most common cancer diagnoses in the United States today, Dr. Larian, world renowned thyroid surgeon, believes that understanding your risk factors and the tell tale signs of the condition are of the utmost importance in catching the disease early and conquering it.
"The newest study states that more than 50,000 people are diagnosed with thyroid cancer every year. Fortunately, when thyroid cancer is detected early enough, the prognosis for the individual is generally very good," said expert thyroid surgeon Babak Larian.
Dr. Larian notes that a very integral part in early detection of thyroid cancer is that individuals need to be aware of their risks for developing the disease. Those with a family history or people who have been previously treated with radiotherapy to the neck are at a greater risk for becoming afflicted with thyroid cancer. Additionally, the disease most commonly affects women between the ages of 25-50.
"When a patient understands their risk factors for getting the disease, their chances of overcoming it are greatly improved because they know what to look for. Though thyroid cancer doesn't always present tell-tale symptoms, it's important to listen to your body and visit a doctor when you feel the need," said Babak Larian, MD, FACS.
According to Dr. Larian, when thyroid cancer begins to grow, initial signs may become visible to the individual, including a small lump in the neck, difficulty swallowing, and possible hoarseness of the voice. If you begin to notice any of these signs, it's important to visit an expert thyroid surgeon to undergo further testing.
"At my medical practice, I've come to find that the procedure that produces the best diagnostic testing results is a fine needle biopsy. I use an extremely thin needle to take a sample of the thyroid gland, which can then be sent off for tests. Depending on the results, we'll have a better understanding of the next proper steps," said Dr. Larian.
Dr. Babak Larian is a board-certified diplomat of the American Board of Otolaryngology/Head and Neck Surgery, and a Fellow of both the American College of Surgeons and the American Head and Neck Society. He has considerable expertise in minimally invasive surgical approaches, image-guided surgery, as well as endoscopic laser surgery, which has made him one of the most sought-after physicians in the industry. Due to his unique knowledge and understanding relating to the thyroid, parotid, parathyroid, and salivary glands, Dr. Larian holds the prestigious position of Chief of Head & Neck Surgery at Cedars-Sinai Hospital in Los Angeles, a chair he will hold until the end of 2013.
For additional information or to learn more about the procedures offered by Dr. Larian, please visit http://www.larianmd.com or call (310) 461-0300.