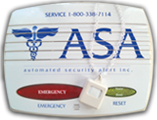 Pittsburgh, PA (PRWEB) February 04, 2013
There are numerous medical alert companies in America that offer their clients push button medical alarms. But according to Automated Security Alert, headquartered in Pittsburgh, Pennsylvania, their new ASAPro medical alarm is the absolute best choice available. "The ASAPro offers the best solution in home two-way voice communication. Its speakers provide the clearest voice and farthest reach for any in-home medical alarm on the market," said Jason Seyler, Automated Security Alert's Life Safety Director. He noted that ASAPro was only one of the medical alarms that the company offers, saying, "We feel we have put together the best suite of medical alert systems. The ASAPro has the best value paired with the ASA Advantage, which includes highly experienced technicians, live help 24/7, proper equipment installation, free maintenance and equipment, no long term contracts, and no activation fee."
Seyler explained that the ASAPro medical alarm has a range of over one acre from the base unit. Pressing the button on the pendant activates communication from the base unit making it ideal for people who live on large properties and have gardens or yards to tend. However, people who live in apartment complexes or in condominiums and may be walking back and forth to mailboxes, community rooms, or laundry rooms can benefit as well. If an individual is a great distance from the base unit and is unable to talk with a Life Safety operator, the company will send immediate help if the senior doesn't respond vocally. Seyler further commented that the alarm is 100% waterproof, making it safe not only for showers and bathtubs, but it can even send a signal from underwater, so it's a great choice for people with pools, hot tubs, or small bodies of water on their property.
Automated Security Alert has a mission to allow senior citizens and physically-challenged persons the ability to age in place in their own homes for as long as possible. In addition to a variety of medical alarms, the company also offers medication dispensers, fall detectors and TeleHealth services.
For further information, please contact Matthew Couillard at 1.800.338.7114.