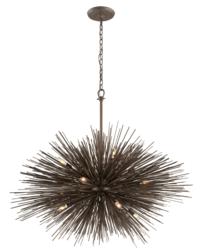 "All of the Littman Brands companies are consistently raising the bar of excellence and creativity in the decorative and architectural lighting space, and Troy has really evolved," said David Littman, CEO.
(PRWEB) February 04, 2013
Troy Lighting, well-known for creating "sophisticated casual" designs, is proud to announce the launch of its winter 2013 indoor collections. The new designs recently debuted at the Dallas International Lighting Market. All of the pieces stay true to Troy Lighting's transitional aesthetic roots, yet break new ground by creatively juxtaposing rustic and feminine elements, delving into artistic/sculptural lighting and even celebrating science and the great Albert Einstein.
"All of the Littman Brands companies (including Corbett Lighting, Creative Systems Lighting, Troy Lighting and Hudson Valley Lighting) are consistently raising the bar of excellence and creativity in the decorative and architectural lighting space," said David Littman, CEO/founder of Littman Brands. "I am proud to put my name behind each and every one of Troy Lighting's winter 2013 introductions and offer consumers what I consider to be the best of the best in lighting."
Highlights of the 2013 collection include: Bordeaux, which beautifully juxtaposes the rustic look of hand worked wrought iron with the feminine qualities of flowing lines, hand carved wood accents in gold leaf and crystal; Jasper, which blends delicate, small diameter metal work with candelabras and a coastal rust finish that gives it an aged, Old World feel; Surya, a sun motif sconce done in hand forged iron and smoke crystal diffuser; and Surrey, which features distressed black finish, candelabra base and antique gold accents.
Troy Lighting's Uni is a prime example of how the company is blurring the line between functional lighting fixture and standalone work of art. The term "Uni" refers to the sea urchin. Chianti is like its own still-life painting, with what appears to be bottles of the Italian vino suspended neatly in a storage rack straight out of the 1800s and early 1900s. Relativity makes creative use of chalk boards and a retro military surplus look. Each piece includes mathematical equations and a unique chalk drawing of Albert Einstein.
About Troy Lighting
Best known for its "sophisticated casual" aesthetic, Troy Lighting has graced the interiors and exteriors of the finest homes worldwide for more than 35 years. Their rich catalog of products can fulfill even the most unique design inspirations, exuding quality, design and value. Troy Lighting's team of expert craftsmen create one of a kind, hand-forged lighting fixtures for the most discriminating residential and commercial clients and take great pride in engineering and inspection standards to ensure high-quality products. Their firm commitment to the environment led to the development of the Troy Lighting Environmental Series, which combines exquisite, hand-crafted designs with compact fluorescent, LED, Energy Star and Dark-Sky compliant options. For more information on Troy Lighting, visit http://www.troy-lighting.com.
About Littman Brands
Littman Brands is renowned for unique custom designs and high-quality lighting solutions for the residential, hospitality and contract arenas. Led by Chairman/CEO and lighting visionary David Littman, whose family has maintained a key leadership role in lighting design for more than 85 years, Littman Brands is represented by four distinct brands: Corbett Lighting, Hudson Valley Lighting®, Troy Lighting and CSL® (Creative Systems Lighting). Each brand reflects an individual identity and specialization while maintaining the promise of uncompromising quality, expert craftsmanship and groundbreaking design. For details about each lighting brand, visit http://www.littmanbrands.com.