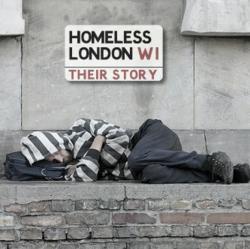 Many of the homeless men, women and teenagers on the streets of London, right now, have a real tragic yet touching story to tell and I want to give them a chance to tell it in my documentary – Homeless London: Their Story
London (PRWEB UK) 3 February 2013
The documentary titled Homeless London: Their Story will embark on a touching and honest journey to explore the individual lives and background stories of the real people that have genuinely found themselves living homeless on the streets of London.
British independent film maker David Sargant, 30, is hoping to raise the vital funds needed to complete the professional documentary via the crowd funding website Indiegogo within the next 45 days.
David explained the reasons behind the project; "I have been travelling in and around London for the past decade and I have witnessed firsthand the way that so many homeless people are judged to be worthless beggars, addicts or criminals, but that's not always the case and their story needs to be told.
Many of the homeless men, women, teenagers on the streets of London, right now, have a real tragic yet touching story to tell and I want to give them a chance to tell it in my documentary – Homeless London: Their Story"
Starting from the very beginning of their stories, the independent documentary will take an honest, raw and sometimes difficult-to-watch look at the touching events that leads someone to become homeless on the streets of London – and this is reflected in the projects Indiegogo video.
David Sargant explained his creative vision, "I want the documentary to capture an honest and truthful account of their stories. I don't want to dress anything up in the name of entertainment; this is about humility and respect. I also want to give key experts and the public a chance to air their views and opinions too.
It is my full intention to create a thought-provoking and factual documentary that people will find interesting. I would be satisfied if it even made one person stop and think 'that's a real person' the next time they see a homeless person asking for some spare change or food."
However compelling David Sargant's documentary sounds, there is one thing that needs to be achieved before he can get in front of the camera and that's the funding for the project via Indiegogo.
"Indiegogo is a great way for independent film makers like me to share a message with the world but it still needs people to back the documentary in order for it to happen. So I ask everyone who can see what this documentary stands for to please support me however you can to make this happen."
Anyone interested in officially supporting the documentary 'Homeless London: Their Story' can do so by visiting the projects verified Indiegogo page – but hurry as David has a short deadline remaining to raise enough funds.
Notes to Editors
Indiegogo project page:http://www.indiegogo.com/projects/328589/x/2307526?show_todos=true
To find out more information visit: http://www.davidsargant.co.uk
Twitter: @HomlessLDN
Facebook: http://www.facebook.com/homelesslondondocumentary