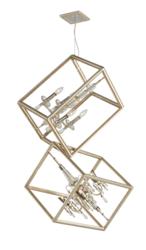 "Conforming to our tradition of unveiling statement-making fixtures, Fascination does not disappoint," said David Littman, CEO/founder of Littman Brands, the parent company of Corbett Lighting."
(PRWEB) February 04, 2013
Corbett Lighting, celebrated for fashion-forward designs presents the Fascination Collection, which premiered at the January 2013 Buyers Market in Dallas. Fascination features 10 new series in the form of pendants, chandeliers, flush- and semi-flush mounts and sconces, offering attractive selections for residential, retail, office and hospitality projects. Known for incorporating precious metals, rock crystals, exotic woods, and artisan craftsmanship, Corbett Lighting redefines decorative lighting with the current offering of new releases.
"Conforming to our tradition of unveiling statement-making fixtures, Fascination does not disappoint," said David Littman, CEO/founder of Littman Brands, the parent company of Corbett Lighting. "Corbett Lighting unifies old-world artistry and unique materials with state-of-the-art technology, a quality that sets our brand apart from the competition."
Leading the pack of introductions is Houdini. Vibrant, this daredevil series imposes open squares tilted on a diagonal with candelabra-style bulbs inside. The framed open "interiors" feature alternating chandeliers, some with crystal cylinders and drops of varying smoke and clear tones. Triple and double four + four pendants and single sconces are available. As the name suggests,
Houdini provides a lighting solution worthy of the term "death-defying."
Another noteworthy addition, Big Bang infuses color and energy via a vintage-type sunburst design that glistens with multi-colored cut-glass jewels. Peppered with amethyst and clear tones, an oversized smoked glass diffuser anchors the piece.
Poetry offers an artful, kinetic light source. The orbital piece is sure to inspire excitement as spiky walnut stems spear through fluttering metallic sheets. Available as a 12-, nine-, six- or three-light pendant or as a four-light sconce, Poetry seems to swirl and move. Sure to appeal to design aficionados, Method combines clear and smoke crystals in a rectangular configuration. Approved for ADA-use, Method may be specified as a three- or two-light sconce.
With its elegant, elongated crystal column, Party Girl seems rooted in early 20th century design. With a silver leaf finish, the fixture is enhanced with touches of clear and iridescent crystal, which completes the one-light sconce.
About Corbett Lighting
For more than 40 years, Corbett Lighting has created and manufactured lighting for residential, hospitality, commercial and contract markets. Corbett Lighting's superb craftsmanship and revered commitment to fine detailing and finishes are major brand characteristics and are evident in every beautiful design. From bias cut crystals to delicate Japanese papers, Corbett Lighting uses only the most stylized and refined materials to reflect the latest trends in fashion, design and lifestyle. Adhering to meticulous manufacturing standards, Corbett Lighting not only maintains a level of consistency in production, but also produces pieces that are superior in quality and unmatched in execution. Corbett Lighting offers a large selection of wall sconces and pendants to accommodate a wide spectrum of projects and applications. With its inclusive, on-site manufacturing facility, Corbett Lighting is able to produce custom lighting solutions that exceed even the most exacting standards. In 2011 and 2012, Corbett Lighting received the ARTS Award for Lighting Manufacturer of the Year, an industry citation bestowed to the top lighting brand by lighting industry peers, designers and manufacturers. No other manufacturer has received this accolade for two consecutive years. For more information on Corbett Lighting, visit: http://www.corbettlighting.com or email: david(at)drsandassociates(dot)com.