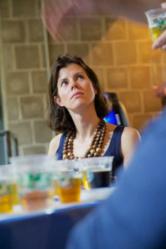 Bottom line: We learned a lot, ate a lot, drank a lot and had a LOT of fun!!
New York, NY (PRWEB) February 14, 2013
Don't be intimidated by beer nerds or serious beer bars and bottle shops. Instead take advantage of NYC Craft Beer Week and Urban Oyster's educational beer tours. The end of February will see New York City will play host to the annual beer festival that is New York City Craft Beer Week. (Feb. 22nd to March 3rd). The festival has been taken over by the New York City Brewer's Guild and will feature over 100 different venues and many events during the week and half celebration. One of the most instructive of these events are the beer themed walking tours that are offered by Urban Oyster. The tours are designed to educate as well as entertain and aspiring beer aficionados will be able to soak up history, tasting, and bar info. Tour goer Giselle from San Diego gushed, "Bottom line: We learned a lot, ate a lot, drank a lot and had a LOT of fun!!"
Their are three tours that will be featured during Craft Beer Week. The first, the Brewed in Brooklyn Tour is Urban Oyster's first and flagship tour. It explores the amazing history of the beer industry in Brooklyn, its rise, fall, and rise again today. Tour goers visit both old and new breweries and learn about the glorious history of America's favorite drink. Of course the tour also includes plenty of beer. Dean from Texas shared "The Brooklyn Brew Tour is a must. Yes, the beer tasting is great, but the history of Brooklyn's brewery district is fascinating."
The Fermented NY Craft Beer Crawl takes a more culinary approach and feels a bit like going to a beer school. Attendees learn the finer points of tasting beer, pairing beer with food, identifying different styles, etc. The pub crawl format balances out the education with plenty of fun plus attendees can discover some of the best beer bars in the city. Betsy from New York told us that "Our guide Laura was wonderful and very knowledgeable on the area (E. Village) and craft beers. I met amazing people, drank great beers, and I was introduced to a few bars that I had never been to but can't wait to go to again."
Finally, the Brewery Winery & Distillery Tour goes beyond beer to include craft wine and liquor which are also booming in NYC. Inspired in part by craft brewers, entrepreneurs have been opening urban wineries and distilleries in large numbers over the last few years. The tour takes people behind the scenes with tours of the production facilities and includes generous tastings of all three.
The tours range in price from $60-$70 and are all about 3 hours long. They are hosted on different days and schedules and ticket purchasing can be found on Urban Oyster's web site http://www.urbanoyster.com
About Urban Oyster:
Urban Oyster is a New York-based tour and events company, founded in 2009 by David Naczycz. The company has created multi-sensory, theme-based tours and events in New York City which aim to reveal the stories behind the people and places that make the city's neighborhoods unique, vibrant, and sustainable. Each tour and event celebrates local people, businesses and institutions and serves to connect people directly to these outstanding and vital resources. By doing so, Urban Oyster hopes to contribute to vibrant and sustainable local economies. Urban Oyster offers a variety of regularly-scheduled public tours and events as well as offering private tours and events that are enjoyed by native New Yorkers and visitors alike. http://www.urbanoyster.com