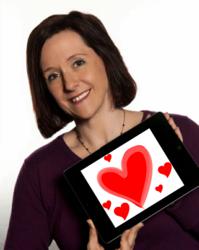 Connecting with customers via email or social media with fun, engaging content is a great way to 'show some love' this Valentine's Day.
Houston, TX (PRWEB) February 06, 2013
It's February and love is in the air. It's also a perfect time to show your customers how much they mean to you.
"Many businesses get so busy chasing the next customer that they forget to 'show some love' to the ones they already have," says Rachel Parker, Owner and Chief Content Strategist of Resonance Content Marketing. "Connecting with them via email or social media with fun, engaging content that shows your appreciation is a great way to do that."
So, where do you start? Parker has five ideas to get those creative juices flowing:
1. Whisper sweet nothings: Post 30-second videos of your team members talking about "Why I love our customers." (Remember to keep it spontaneous, not scripted, and don't worry about production values — it'll be more believable if it doesn't look too slick.)
2. Ask them on a date: Schedule a Twitter chat or a Google hangout where your CEO will be on hand to do a "virtual meet-and-greet" and answer questions.
3. Make them a mix tape: Invite followers to submit their ideas for "Best Love Song of All Time," then publish the complete playlist on Valentine's Day. (For extra mojo, offer a $5 iTunes gift for everyone who contributes.)
4. Show them they're special: Post "customer spotlights" on your blog or Facebook Page throughout the month of February. Include a photo and some fun facts about the person, like "My ideal spot for a romantic getaway would be …" or "The best Valentine's Day surprise I ever got was …"
5. Show some heart: Nothing spreads the love like donating to a worthy cause. Offer to donate $1 to a favorite nonprofit every time customers post on your Facebook Page about why they love your product or service.
"Showing your appreciation to customers doesn't require a grand gesture or huge expenses," says Parker. "In business as in romance, it's the thought that counts."
About Resonance
Founded in 2010, Houston-based Resonance Content Marketing helps businesses leverage their content as a strategic asset for attracting and retaining customers. Resonance helps its clients by developing comprehensive content marketing strategies, writing and publishing content on their behalf, and measuring the results to ensure consistent progress.
# # #