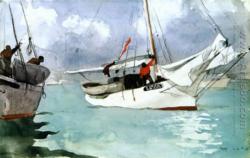 (PRWEB) February 02, 2013
Nowadays, house decoration with an artwork becomes more and more popular. An oil painting can provide beauty, color, quality and style to the space. Meanwhile, it is a reflection of the owner's tastes and interests. However, how to choose a suitable painting? The sales counselor of Artisoo gallery solves the question as follows.
"When redecorating for a house one should ideally emphasize two things: favor and style," said Zachary. "It doesn't take transforming the entire room to match the artwork, just add an oil painting to suit one's home decor."
Selecting an oil painting for one's home with Zachary's top 5 decorating tips:
1. Before choosing the artwork, one needs to know what kind of painting appeals to you most. The artwork hung in the living room or bedroom or other places, are actually something may fill with joy or quietness. Thus, one's favor comes first. Compared to this, all the other things are subordinate. The biggest value that oil painting brings is the spiritual pleasure and relaxation.
2. The painting should be in harmony with one's style of decoration. Simple room with modern painting such as non-frame painting can make a room full of vitality. European and classical room can choose paintings in realistic style, such as portraits, landscapes, etc. The framed painting looks magnificent and elegant and can achieve the best result. The painting style should depend on the decoration style and main furniture. The painting style had better to be coordinated in the same environment, otherwise one will feel cluttered and discomfort. For instance, it will be very strange if classicism painting and modern abstract painting are put together.
On the other hand, it's necessary to blend the artwork with the furnishings and the style of the room. If the room is in a warm style, then one had better to choose a warm style art. But it doesn't mean that one should make decisions based on this alone. After all, it's one's own decision for the home decoration.
3. The color should be in line with the furnishings on the wall. If it is a kind of deep and stable furniture, one should choose an ancient and elegant painting to be coordinated. If it is bright and simple furniture and decoration, the best choice would be to choose an active, warm, avant-garde and abstract oil painting.
4. Try to choose a hand-painted oil painting. At present, there are a lot of simulated paints in the market, which are easy to be oxidized and change color. In general, one will be able to tell from the strokes of painting: the picture of hand-painted oil painting has an obvious concavo-convex surface which can be felt clearly when touching by hands, while printed painting is very smooth and partly colored by the pigments.
5. Choose the suitable size of the artwork according to room. A common mistake is to acquire an oil painting that fits an empty space exactly. Please bear in mind that an oil painting needs space to be appreciated. Here is a tip: try to keep the size of the space that surrounds the painting as relative as one can to its size. For example, if the new painting is 24 inches * 36 inches make sure there are at least 24-inch wall space around it.
To make decisions wisely, one may want to study art. But it's not necessary. One could get some useful advices from the seller of galleries. Shopping at online art galleries is also a great way to pick up the very piece of artwork. Artisoo gallery is actually a professional and considerable online art gallery. One will be pleased to find the artwork that suits one's home.
Artisoo.com makes it easy to find suitable hand-painted oil painting for one's home décor. Prices start as low as $49. And every week, Artsioo gallery promotes "Deal of the week" for their customers at a special price. The online gallery is one of the web's most successful distributors of home décor artwork with more than 10,000 daily visitors. For more Artisoo info, please visit http://www.artisoo.com/.