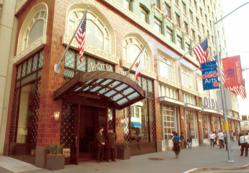 San Francisco, CA (PRWEB) February 05, 2013
From the same hotel that brought guests the Gluten-Free Mini Bar, Hotel Palomar San Francisco is, again, meeting its guests' health and wellness needs with the first-ever juice cleanse package. Perfect for leisure and business travelers looking to reboot their health while on the road, or locals longing to escape their usual surroundings (and all the requisite bad habits and distractions that come with it), Hotel Palomar is partnering with nationally acclaimed Pressed Juicery upon the opening of its first San Francisco outpost to offer two cleanse getaways of different lengths, with additional amenities to ease the experience.
Offered as a 1 Day/1 Night Cleanse for a quick refresher course, or a more dedicated 3 Day/2 Night Cleanse, the "Pressed, Pampered & Purified" Package includes:

Luxury accommodations at Hotel Palomar San Francisco
A series of Pressed Juicery Juices delivered daily to the hotel; includes daily regimen of Greens 2, Citrus 2, Roots 3, Citrus 4, Greens 3, Vanilla Almond
(All offered through Hotel Palomar at a privileged rate)

Pressed Juicery Cooler Caddy
Pressed Juicery Cleanse Guide
Hotel Palomar Water Bottle
Assorted Decaf Herbal Teas Offered In-Room
Reserved Bike On Property for all Package Guests
Starting at $219 for the 1 Day/1 Night Cleanse and $657 for the 3 Day/2 Night Cleanse, the "Pressed, Pampered & Purified" package can be booked online at http://www.hotelpalomar-sf.com or by calling 866-373-4941, rate code Pressed. San Francisco Hotel Package valid until end of December 2013.
While well-known for its Los Angeles presence and nationally recognized branding at the helm of the juice cleanse movement, Pressed Juicery has only just opened its first San Francisco outpost in Noe Valley, with store fronts in the Ferry Building and Marin Country Mart to follow. Sharing similar core values, both Pressed Juicery and Hotel Palomar aim to arm individuals with simple, convenient, and tailored solutions that can adapt to their hectic schedules – both at home and on the road – in pursuit of wellness and balance. Cleansing serves as the ultimate tune-up; a chance to detoxify the body, and upon completion, depart from the hotel feeling clear, optimistic and rejuvenated on the inside, and radiant and lean on the outside.
About Hotel Palomar San Francisco
Hotel Palomar San Francisco, a Kimpton Hotel, is an artful retreat in the heart of the city. Home to sophisticated accommodations and the acclaimed Fifth Floor Restaurant, guests will delight in unparalleled hospitality, integrated wellness programming, pet-friendly amenities and award-winning services. The San Francisco boutique hotel's vibrant downtown location sits just steps from Moscone Center, SFMOMA, Yerba Buena Gardens and the best shopping in the city.
http://www.hotelpalomar-sf.com
About Pressed Juicery
Pressed Juicer was born out of the idea that in order to find fulfillment and balance each day, modern people need to be armed with a fresh set of tools that are simple, convenient, and tailored to their hectic schedules. We believe that everyone is entitled to live their best lives, but in order for this to happen, we need to get back to our roots. While the benefits of juicing are endless, we aim to cut through the confusion and condescension of so many health trends and get to the point: our bodies require vital nutrients to function at their optimal levels. Pressed Juicery provides a convenient way to meet those requirements. http://www.pressedjuicery.com