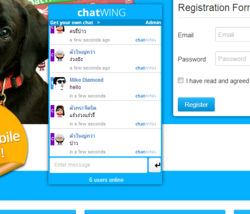 San Francisco, CA (PRWEB) February 02, 2013
Home businesses are resurfacing in a very swift manner, as observed by the key developers of Chatwing. The company and its team have decided to step up in the niche of online home business websites after weeks of careful observation. The newest chat software offered by the company focuses on enhanced global communication, social media advantage, and greater customization. Home business tips can also spread properly with the help of the innovative chatbox.
Customization is a leverage presented in the Chatwing chat box. Once a user registers using his email address, he can now proceed to the dashboard and start setting up the appearance of the chatroom. The user can select colors and background styles freely. In the dashboard, there are dozens of background images available, though the user can upload his image link.
Social media integration is also an important function in the chatroom. Through this, users can log in with their Facebook, Twitter, Google, and Yahoo accounts. This can improve the global communication rate of any website. In the niche of home business, web users can exchange important tips at any given time. The exchange of tips happens in real-time, so there is no time wasted.
Chatwing will continue to expand in other online niches in few weeks or months. From the home business niche, the company developers are looking forward to reach the greater online financial portals. To do this, the company will work on new enhancements that can ensure the overall stability of the chat app.
About Chatwing.com
Chatwing.com specializes in the new field of website chat. Over years, the development team has introduced live chat widget for hundreds and thousands of blogs. The application bridges people from many parts of the world, creating global synergy through the Internet. The shout box can be installed in just seconds, and it can be used for varying purposes such as leisure and Internet marketing. It also allows a user to customize the size, color, and name of the widget.