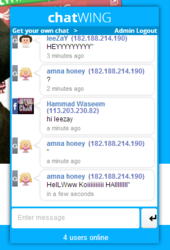 Chicago, IL (PRWEB) February 03, 2013
Chatwing.com, an online company specializing in widget creation, has recently launched a chat tool that can ease up information relay in any website or blog. The developers of the chat software have observed the needs of web users for many weeks, and they have also studied the way online niches grow. The embeddable widget allows social media integration, continuous website traffic stream, niche visibility growth, better connectivity, and even wide range of customization choices.
The chat box presented by Chatwing plays a major role in the growth of a website. Through the chatroom, visitors can now gain important information regularly. The type of information depends on the niche of the website. The rate of information can be improved through the chat application's social media leverage. Through this, the chatroom visitors can log in with their Facebook, Google, Yahoo, and Twitter accounts. This is the reason why some social media marketers have already started using the application.
The installation process also saves up a lot of time on the side of the user. The user can get the chatroom by registering with his email address. After finishing that, the user can proceed to the customization phase. In the dashboard, numerous customization choices are available. These choices range from border colors to specific admin functions. Once editing is complete, the chatroom can become active instantaneously.
The company is dedicated to improve the global premise of online connectivity. In order to commit to such objective, the company is willing to roll out new chat app upgrades in the coming months. These upgrades will center on the widget's overall capability and real-time performance.
About Chatwing.com
Chatwing.com specializes in the new field of website chat. Over years, the development team has introduced live chat widget for hundreds and thousands of blogs. The application bridges people from many parts of the world, creating global synergy through the Internet. The shout box can be installed in just seconds, and it can be used for varying purposes such as leisure and Internet marketing. It also allows a user to customize the size, color, and name of the widget.