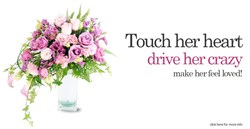 (PRWEB) February 02, 2013
Today, Annie Tan, CEO of YaoFlowers.com, announces that they have started their Valentine's Sale, which is specially designed to satisfy the increasing demands of overseas customers who hope to send flowers to China for their special someones.
The sale extends discounts on their dazzling collection of bouquets, most of which are priced between $40 and $70, targeting at the middle-end market. The company has also listed its best-selling products on its website, like CL06172 (28 hot red and pink carnations hot pink lilies), C06176 (19 purple, white, and pink carnations), and so on.
"Each of our expert florists has the unique blend of skills, creativity and attention to detail needed to create every handmade bouquet. Every bouquet ordered from us is prepared with care and hand-delivered as promised," says, Annie Tan, "Each bouquet will be presented in a stylish designed gift wrap, finished with ribbon and placed in our signature black Interflora bag to create a stunning gift experience."
According to Annie Tan, all their flowers can be delivered to any city in China on the same day, and they provide the service of sending flowers to Taiwan as well. Moreover, Annie Tan specially recommends their Shanghai flower delivery service.
Annie Tan adds, "Valentine flower delivery has been very popular for women now, but we have created some structural and interesting designs, such as exotic orchids, and handcrafted red roses, that will be great to give to your man for Valentine's too."
About YaoFlowers
Found in 2006, YaoFlowers.com, a leading China florist, has gained popularity these years for its romantic flowers and gifts at affordable prices, and fast delivery as well. Besides classic red roses, YaoFlowers.com offers a wide range of flowers and gifts for all occasions.