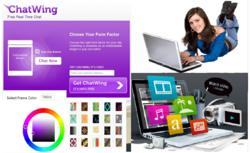 Boston, MA (PRWEB) February 04, 2013
Chatwing.com is setting a higher standard for 2013 by reaching out to website owners specializing in tech tutorials. The company is now ready to introduce its latest chat app included with helpful features, such as social media function, advanced customization setup, multiple admin setup, banning system, word filters, and even background image feature. The company ensures overall traffic improvement and connectivity.
Chatwing's developers have observed that tech tutorial videos are common nowadays because of the new applications appearing every now and then. Tech tutorials include proper website creation, basic game cheat hacks, Adobe Photoshop walkthroughs, and basic programming knowledge. The developers are certain that an efficient chatroom tool can help visitors of tech tutorial niche gain the proper information that they need. The Chatwing tool is based on real-time communication, so there is no wasted time when it comes to information relay.
In the chat box, the web users can also share some tips that they have discovered along the way. Apart from that, the visitors can also leave important links to their websites, making the Chatwing tool a reliable marketing tool. Social network expansion is also achievable because of the chat tool's social media login setup. Now, visitors can log in with their Facebook, Twitter, Yahoo, and Google accounts. Owners of tech tutorial websites can use this opportunity to expand their overall knowledge about applications and application walkthroughs.
The company's advancement to the tech tutorial niche—so far—is gathering many positive feedbacks. This rate was observed by the company's developers and researchers. Through this careful observation, they can now create strategic templates that will increase the overall efficiency and reliability of the chat tool.
About Chatwing.com
Chatwing.com specializes in the new field of website chat. Over years, the development team has introduced live chat widget for hundreds and thousands of blogs. The application bridges people from many parts of the world, creating global synergy through the Internet. The shout box can be installed in just seconds, and it can be used for varying purposes such as leisure and Internet marketing. It also allows a user to customize the size, color, and name of the widget.