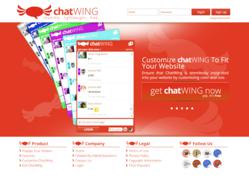 New York, NY (PRWEB) February 05, 2013
Chatwing and its team of developers have decided to slink into the high-octane world of political discussions. According to the studies of the company, political discussions are prominent in hundreds of websites, forums, blogs, and online portals. To help these website owners gain information and subscribers, Chatwing.com is ready to launch its newest chat app. The embeddable chatroom can magnify the way people communicate in the political discussion niche.
Chatwing chatroom can boost the rate of political discussions by more than 60%. This rate is attributed to the chatroom's overall capacity and real-time communication speed. Normally, messages can be conveyed in just seconds and minutes. Political website owners have used the chatroom tool to gather insights from visitors and spread awareness, as well. Another key factor of the shoutbox is social media leverage. Through this, visitors can log in with their respective social media accounts. Now, visitors can widen their networks, make new friends, and take political discussions to a whole new level.
Common political discussions include the performance of world leaders, administrators, and other local leaders—depending on location. The Chatwing Team has also noted that political projects and manoeuvres are also discussed on a frequent basis.
Aside from political niche, the chat software can be used in the niches of business, online investments, venture capitalism, direct selling tips, entrepreneurship, and social awareness. This usability rate proves, in a greater scale, that the Chatwing tool is reliable in professional terms. It can also bring a new way of chatting experience for many web users.
About Chatwing.com
Chatwing.com specializes in the new field of website chat. Over years, the development team has introduced live chat widget for hundreds and thousands of blogs. The application bridges people from many parts of the world, creating global synergy through the Internet. The shout box can be installed in just seconds, and it can be used for varying purposes such as leisure and Internet marketing. It also allows a user to customize the size, color, and name of the widget.