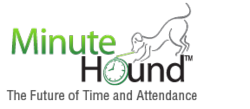 MinuteHound Time Clock Software will help all size businesses reduce costs and increase savings across the board.
New York, NY (PRWEB) February 19, 2013
The MinuteHound Time Clock provides a cost-efficient time and attendance solution ideal for any size business. From small operations with 20 employees in one location, to large corporations with 20,000 employees and ten branches, MinuteHound can cater to the specific needs of any business.
Investment in a quality biometric time clock system results in savings of both time and money by safeguarding against time theft, and reducing the need for costly accounting staff. MinuteHound's monthly service rate is approximately $1 per employee every month. Users report initial savings of 2 percent, increasing to over 10 percent.
The MinuteHound Time Clock system consists of timekeeping software and a small fingerprint reader, which is connected to any computer. The time clock software runs in the background, and does not affect other programs. USB extension cables enable the fingerprint reader to operate up to 54-feet away from the computer. Following installation, employees are enrolled, a process which takes approximately two minutes per employee.
MinuteHound's fingerprint system completely replaces timecards and PIN systems. When an employee touches the Time Clock, the system translates their fingerprint into a 128-bit encrypted number. After logging the employee's attendance and the time, that number is divided among four different servers across the globe, a process which ensures security.
Managers can monitor employee hours in real-time using any web browser, allowing for easy on-the-fly schedule adjustments. Employers can enter employee schedules, allowing MinuteHound to send an email or text-message alert whenever someone is late or clocks out early. MinuteHound provides a full report that can be exported to most accounting and payroll programs, essentially eliminating the need for an accounting staff.
Experts from the American Payroll Association report that American businesses lose a total of $140 billion each year due to unauthorized overtime, buddy punching and other irregularities. The MinuteHound Time Clock ensures accurate payroll by carefully recording all attendance and hours worked. Detailed time and attendance reports help employers quickly recognize schedule deviations.
Even the most experienced hackers are unable to manipulate the MinuteHound system. Employers rest assured knowing that timekeeping data is completely accurate. Employees understanding that the system cannot be manipulated fosters an environment of employee honesty.
More than 150,000 users from businesses of all sizes use the MinuteHound system daily. Regardless of size or industry, MinuteHound reduces payroll costs and increases bottom line profits.
MinuteHound Contact Information
Website: http://www.MinuteHound.com
Email: info(at)MinuteHound(dot)com
Phone: (800) 351-7237