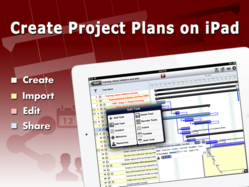 Great app! - I use it every day for my work. It allows me to manage all my projects.
- Jean Bernard Miglietti
Mystic, Conn. (PRWEB) February 02, 2013
Project Planning Pro app for iPad was selected as one of the 10 nominees amongst 1000's in the business category for the 'BestApp Ever Awards'.
I2e Consulting is celebrating this milestone by dropping the price of 'Project Planning Pro in-app upgrade' for three days.
The in-app upgrade price will be dropped to $9.99 for 3 days starting February 2, 2013. 8 AM EST (Eastern Standard Time, US)
After the price-drop the upgrade price will be back to $29.99. So hurry, upgrade now!
Project Planning Pro is a project management app to create and update project plans on the iPad.
It was first launched in April 2012 at Microsoft Project Conference in Phoenix, Arizona, USA and has since then gained worldwide popularity.
***App Store Reviews***:
Great app - I love using this program for my construction projects. - Dan Rose (United States)
Great app! - I use it every day for my work. It allows me to manage all my projects. - Jean Bernard Miglietti (France)
I love it - It is an amazing application, and it is easy to use Thank you. - Aziz Ben Taleb (United States)
***Device Requirements***:
iOS 5.0 or later
Designed for iPad
6.2 MB
***Pricing and Availability***:
The app is free to download with in-app purchase for unlimited access
***iTunes store link***:
Download Project Planning Pro app iPad
Based in Mystic, Connecticut, i2e Consulting is a software services company providing innovative enterprise solutions to clients across the Globe. i2e Consulting is a Microsoft Certified partner with niche in Portfolio Project Management. i2e Consulting Mobile division is developing on iOS, Android and Windows Apps.
Copyright © 2012 i2e Consulting. All Rights Reserved. Apple, the Apple logo, iPhone, iPod and iPad are registered trademarks of Apple Inc. in the U.S. and/or other countries. Microsoft and Microsoft Project are registered trademarks of Microsoft Corporation in the U.S. and/or other countries.