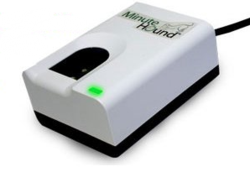 MinuteHound's Biometric System Saves More Money than the Traditional Time Clock.
New York, NY (PRWEB) February 21, 2013
Companies are making the switch from traditional time clocks to a more advanced system that effectively reduces payroll expenses: MinuteHound. This new time and attendance monitoring system tracks employees by allowing them to clock-in and clock-out with a quick, simple fingerprint scan. All attendance information is uploaded in real time, allowing authorized users access to attendance records at anytime from anywhere an internet connection is available.
MinuteHound is now in use at a wide variety of business: cosmetic laser centers, doctor's and dentists' offices, fitness chains, retail stores, food and beverage, warehouses, auto-shops, and many other industries. Furthermore, MinuteHound has just announced that all biometric scanners will be sold at a price reduction. Small business owners can now afford to use biometrics and modern technology in their business.
In order to understand how much money a company can save with MinuteHound, first consider how much money a company loses by using traditional time clocks. There are many hidden costs in the old standard time clock that relies on the manual punching of paper time-cards. The first comes from human error when employees do not punch their card correctly. The result is a confusing time card that takes extra processing time to read properly, if the manager can even discover the real time of the employee's arrival and departure at all. Next there are the thefts of time that the average employee makes on a daily basis. Most companies do not control these abuses because they were previously difficult to monitor and prevent.
Finally, friends often clock-in for each other, so employees may be getting paid for hours they are not even present. All of these losses combined with additional payroll processing times add up to unnecessary expenses. Digital time clock systems have the improved advantage of ensuring that timekeeping data is not easily lost, unlike paper time-cards. However, digital time clocks cannot prevent employees from clocking each other in.
MinuteHound requires only that an employee scan their finger, a process that takes seconds and greatly minimizes the chance of human error. If an employee forgets to clock-in, authorized managers can manually enter the clock-in. Live internet reporting alerts managers in real time to costly schedule deviations. Additionally, automated payroll reports save precious time.
MinuteHound Contact Information
Website: http://www.MinuteHound.com
Email: info(at)MinuteHound(dot)com
Phone: (800) 351-7237