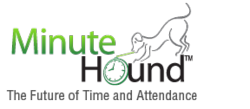 The bottom line is the most important aspect of any business, and MinuteHound can positively impact the bottom line of any type of business.
Las Vegas, NV (PRWEB) February 12, 2013
Payroll managers of businesses both large and small deal with many headache-inducing problems. Unfortunately, most of these problems equal considerable money lost by the business. For example, employees clock in for other employees, employees make unauthorized schedule changes, employees add unapproved overtime, and the list goes on... Even the best payroll manager undoubtedly makes time card errors. MinuteHound has released a time keeping solution to these problems that cures all time and attendance woes.
MinuteHound utilizes biometric fingerprint technology. Employees clock in and out by touching a small device connected to a PC. The time information is stored securely and remotely "in the cloud." Payroll managers can monitor tardiness and attendance globally in real-time via any internet enabled device. The software is also capable of sending an automated e-mail or a text message to the mobile device of an employee who is late or leaves their scheduled shift early. That is truly robust, always-on monitoring.
Deploying MinuteHound is simple and does not require IT personnel or complex training sessions. The biometric fingerprint scanner connects to any PC where the time clock software is installed. MinuteHound proudly provides skilled U.S. based technical support, should a customer have any questions regarding optimal configuration.
The fingerprint scanner is sold for $99.95. A simplified monthly cost breakdown is $1.00 per employee and $5.00 per location. MinuteHound brands itself "risk-free" by offering a lifetime full refund of the scanner's purchase. MinuteHound provides a calculator on their website which provides a detailed price quote (no contact information required).
Although many timekeeping packages exist, in real-world tests MinuteHound is superior in terms of technology, cost and support. It is the simplest to deploy and will not interrupt business operations during implementation. MinuteHound has so far been the only option proven to exceed a 2,300 percent ROI. These returns come as the result of correcting human error, prevention of both intentional and unintentional time theft, and flawless attendance reports, which highlight abnormalities.
Bottom line profit is the most vital aspect of any business. MinuteHound improves the bottom line. Businesses may access the free online time clock calculator to calculate potential savings.
MinuteHound Contact Information
Website: http://www.MinuteHound.com
Email: info(at)MinuteHound(dot)com
Phone: (800) 351-7237