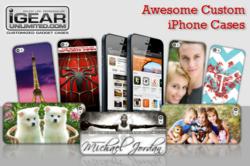 Awesome quality phone cases require the best imaging technology.... Sunrise invested heavily in presses that have a true flatbed design, magnetic-linear transport system, and at least 48 printheads with gradient-mask feature...
Chicago, IL (PRWEB) February 04, 2013
Some people are better at gift giving than others. Their secret? They know that the perfect gift is something the person needs or would love - in other words, a gift with meaning that proves that they know their recipient only too well. Since almost everyone has a cell phone, wouldn't it be great to give a custom photo case for this Valentine's Day that cherishes a piece of memory?
Thanks to iGearUnlimited.com, the company is giving away custom printed phone cases for Apple's iPhone 4, 4S, and iPhone 5, plus Samsung's S3 smart phones. The free phone cases contain a small iGearUnlimited.com logo to help the company build its brand name. Otherwise the free products are identical to the company's standard hardshell cases priced at $39.99. Cases are available on a first come, first serve basis.
"We're seeing a lot of orders with images of couples in love, kids, pets, family photos, etc." said Jimmy Sun, president of iGearUnlimited.com. "For this Valentine's Day, we want to make the phone cases more affordable to more people, while helping us get additional brand recognition."
Although everyone is welcome to the offer, only customers with this direct link can access the free product: http://www.freecustomphonecase.com. Corporate customers and schools are also welcome to use these phone cases to brand their business.
Ordering the case is very easy using the company's online design tool... simply select the case style you want, upload an image, crop and scale it on the fly, and approve it for production. Cases will take 3-5 days in production and shipping is free on orders of $50 or more.
For classic fine art lovers, the company offers a stock photo library with close to 8,000 high-resolution fine art images from the world's most famous artists, including Van Gogh, Monet, Da Vinci, Rembrandt, Cezanne, and more. Using an HTML5 based online design tool, iGearUnlimited.com is among one of the only sites that allows artwork customization directly from an iPhone or iPad.
For more information about other custom iPhone and iPad cases, visit the company's website at http://www.iGearUnlimited.com.
About iGearUnlimited.com
iGearUnlimited.com is powered by Sunrise Digital, an Inc. 5000 company established in 1988 and employs the most advanced equipment and technology, such as G7-certified HP Indigo and UV flatbed presses, and digital die-cutting, to create best-in-class products. A privately-owned enterprise, the company is based in Chicago and sells products worldwide.