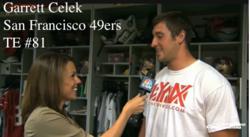 "It's been a dream come true," Celek said. "To get here with all the hard work we put in and finally paying off in the Super Bowl. As a rookie you can't ask for anything more."
New Orleans, Louisiana (PRWEB) February 03, 2013
NEW ORLEANS - Garrett Celek will be the second Lynx Shreds Athlete in the past two years to play in the Super Bowl. Last year Greg Jones from the New York Giants was the first Lynx Athlete to do so and finished with a championship ring. Now Garrett is hoping to finish with one as well.
Garrett, who is the younger brother of Philadelphia Eagles Brent Celek, is doing something that his older brother has never had the chance to do before- win the Super Bowl. San Francisco 49ers rookie tight end Garrett Celek has played 13 games this season. His brother Brent, has played 95 games in six seasons for the Philadelphia Eagles as Tight End. They both have dreamed about playing in the Super Bowl since they were little kids. "The only thing that matters is the game," Celek said, describing his thought process. "Have no regrets because this might be my only chance to be here. You have to take advantage of every opportunity."
Celek along with several other current NFL and NBA stars promote the clothing brand's lifestyle and vision. The Lynx vision lives through pushing friends/teammates and yourself to getting better and go bigger and harder in every physical activity. Putting in the work and time to improve and follow passions to the extreme till dreams become a reality. "It's been a dream come true," Celek said. "To get here with all the hard work we put in and finally paying off in the Super Bowl. As a rookie you can't ask for anything more." Garrett steps on the field Sunday his dream of playing in the Super Bowl will become his reality."
That vision is the heart and soul behind Lynx Shreds: "Lynx Shreds isn't just about the clothing but about what you're doing and where, but it's also who you're doing it with and giving it everything you've got. Pushing yourself and your friends to make each other the best you can possibly be. The company is creating apparel that is constantly changing to meet the needs of the hard-charging athletes such as Garrett doing what they love and dream of."
With this type of vision Lynx Shreds has, the brand produces MMA gear, along with a surf clothing, skate clothing, and other extreme sports style theme. If you or other athletes you know relate to the Lynx Shreds vision and lifestyle, then Lynx apparel would be the perfect brand that will mentality and physically fit right.
For more info about Lynx Shreds products, athletes, and sales please check out our website http://www.lynxshreds.com