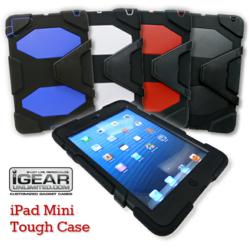 iGear's Tough Case is built like a tank and offers hands down the best iPhone protection in the industry.... It's an excellent way to protect your iPad from daily use and abuse.
Chicago, IL (PRWEB) February 05, 2013
About 5 percent of the iPads purchased for school students and staffers in Powell Wyoming have had to be repaired or replaced since they were introduced last year. Eighty-one iPads worth $40,192 were damaged. Of those, seven belonged to teachers and administrators and 74 were assigned to students. The most common problem was broken screens.
We all know kids can be rough with their toys, and that can cause a problem for schools deploying iPads in the classroom. Recent reports show the up to 15% of iPads are damaged within the first 2 weeks if not used in a protective case. Most of the damage is due to accidental dropping, leaving bent corners, scratched sides, and most commonly, a broken screen.
Some schools are dealing with the problems by purchasing a protection plan from Apple, or purchasing cases for their iPads, or both. To ensure the deployment goes smoothly and minimize delays and administrative burdens, the best practice proved to be using a rugged case that protects the iPad no matter what happens.
If you haven't heard already, an iPhone case was able to protect the device from a 32ft drop from a second floor window to a concrete driveway, and the phone escaped unscratched, while recording video the whole time. It's called Tough Case made by iGearUnlimited, and now the company is bringing the same design and protection to the iPad and iPad Mini.
The new iPad Mini Tough Case offers multi-layer protection using a combination of (1) an outer soft rubber shell, (2) an inner polycarbonate hard case, and (3) a clear lens which covers the screen. This case is supremely shock absorbent and since all buttons and ports are tightly sealed, the Tough Case provides rain and splash protection, while giving the user full access at the same time. The handy grip offers a convenient way to hold the iPad with one hand, and also functions as kickstand for movie watching.
"iGear's Tough Case is built like a tank and offers hands-down the best iPad protection in the industry." says Jimmy Sun, president of iGearUnlimited.com. "It's an excellent way to protect your iPad from daily use and abuse."
The Tough Case is available from iGearUnlimited.com for immediate shipping. Regularly priced at $59.99, schools should contact the company directly for a special discount program that brings the cost down to as low as $22 each. iGear also offers low-cost custom branded cases for schools' sports teams and other activity groups.
About iGearUnlimited.com
iGearUnlimited.com is powered by Sunrise Digital, an Inc. 5000 company established in 1988 and employs the most advanced equipment and technology, such as G7-certified HP Indigo and UV flatbed presses, and digital die-cutting, to create best-in-class products. A privately-owned enterprise, the company is based in Chicago and sells products worldwide.