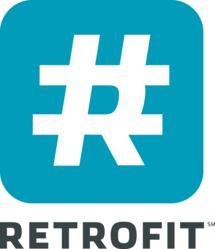 Remember that you can always get back on track after any indulgence. Living mindfully is about staying aware and remembering that you are just one snack or meal away from getting it right.
-- Retrofit Lead Behavior Coach Jennifer Plotnek
Skokie, IL (PRWEB) February 04, 2013
Today is probably a rough day for football fans, whether they were rooting for the Baltimore Ravens or the San Francisco 49ers. The Super Bowl has increasingly become a day of national celebration when Americans pile their buffet tables high with chicken wings and pitchers of beer. Retrofit, Inc., the official weight loss program of the National Football League Players Association (NFLPA) Former Players, recognizes that armchair quarterbacks often need extra support and coaching so the big game doesn't cause big gain.
According to the USDA, Super Bowl Sunday is second only to Thanksgiving Day in terms of food consumption. Unfortunately, the calories from all those snacks and unhealthy choices add up quickly. The average fan consumed an estimated 1,200 calories and 50 grams of fat yesterday on snacks alone, reports the Calorie Control Council and Snack Food Association. Check out these additional jaw-dropping statistics:

An estimated 8 million pounds of avocados were mashed by football fans to serve as guacamole dip. (Source: California Avocado Commission)
1.25 billion chicken wings were eaten during the big game. (Source: National Chicken Council)
55,200 hot dogs were served at the stadium in 2009 when Tampa Bay hosted Super Bowl XLIII. (Source: Raymond James Stadium)
51.7 million cases of beer were sold to quench the thirst of Super Bowl fans during yesterday's game. (Source: The Nielsen Company estimate)
"It is important to remember that you can always get back on track after any indulgence," said Retrofit Lead Behavior Coach Jennifer Plotnek. "Living mindfully is about staying aware and remembering that you are just one snack or meal away from getting it right."
Retrofit teaches sustainable behavior change to its clients, some of whom played for the NFL and now appreciate the expert support and coaching. Retrofit, the weight loss program for busy professionals, delivers results through an innovative program utilizing the latest wireless technology along with personalized guidance from highly trained wellness experts. Each client receives private lessons with a registered dietitian, an exercise physiologist, and a behavior coach via Skype™ videoconferencing. More than 90% of Retrofit clients are losing weight.
"Football players who make it to the Super Bowl have to train each day with the knowledge that every workout session has a purpose and a plan," said Retrofit Lead Exercise Physiologist Gary Ditsch. "Take inspiration from NFL athletes and fully dedicate yourself to a workout routine. Try to consistently meet those training goals one day at a time. Getting back on track is challenging, but it can be done with support and dedication."
Former NFL player and Retrofit Vice President of Business Development Reggie Smith agrees. "The NFL trains you to play at the highest level of competition. That need for competition doesn't go away once you leave the gridiron. Retrofit clients are high achievers whether they played in the NFL or not. They respond well to the advice and support of our highly trained wellness experts."
Smith, who played in the NFL for the Denver Broncos and Tampa Bay Buccaneers, introduced Retrofit to NFLPA members last May at a NFLPA Former Players, Chicago Chapter meeting hosted by Chicago Bears All-Pro Kicker Robbie Gould. The NFLPA recently kicked off a partnership with Retrofit on a national level.
Retrofit experts are sharing some tips on how to recharge and strategize for weight loss success to shed those unwanted pounds for good.
"If your New Year's resolutions were stalled by Super Bowl fever, it is time to set new rules for the eating game," said Retrofit Lead Registered Dietitian Amy Margulies. "Choose meals that follow the guidelines of the 'Perfect Plate,' which is 25% lean protein such as lean meat, beans, low-fat dairy, nuts, and seeds; 25% whole grains; and 50% fruits & vegetables. Get back to basics with three meals and two healthy snacks per day."
"Stop beating yourself up for things you can't change." said Plotnek. "Start focusing on changing your patterns to positively impact your future."
Ditsch said, "If you ate more than you anticipated during the game, you are not going to burn off those extra calories by doing a little harder or longer workout on Monday. So just commit yourself to getting back on a regular schedule for the week ahead."
About Retrofit
Retrofit, the weight loss program for busy professionals, is designed to deliver lasting results. Its innovative year-long program includes wireless monitoring of a client's weight, activity and sleep, as well as private lessons with a registered dietitian, exercise physiologist, and behavior coach. Retrofit recently raised $8 million in a Series A financing led by Draper Fisher Jurvetson (DFJ), bringing the total investment in Retrofit to $10.7 million.
Retrofit can be found on the Web at http://www.retrofitme.com and (855) 4-RETROFIT. Follow the company on Facebook and Twitter at @retrofitme.