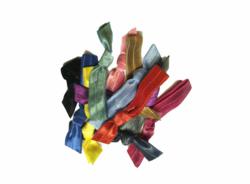 (PRWEB) February 04, 2013
Becca Bands has signed on as a participant for The Sports Bra Challenge. Becca Bands will provide elastic hair ties for all participants in this year's event.
The event is an annual charity fitness movement hosted by SEAK Foundation with the goal of bringing people together to support and empower one another to feel comfortable in their bodies. Body image issues, lack of confidence and feelings of self-hate are all feelings that most people have dealt with but are never addressed. The Sports Bra Challenge is about bringing people together to accept and share their insecurities and overcome their fear of them. Participants will take part in a series of group fitness classes in their sports bras to support SEAK's mission to bring awareness to the increasing epidemic of women who determine their self-worth based on their appearance and address these issues by promoting fitness as a platform for women to build the confidence they need to feel empowered and comfortable in their own skin. The Sports Bra Challenge will take place in Union Square Park in New York City on Sunday, April 14, 2013.