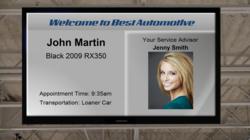 Williamsville, NY (PRWEB) February 04, 2013
Service Dynamics is the new name of AutoEforms, evolving to better suit the company's strength in service applications for the auto industry. Typically service managers, advisors, and technicians all benefit by using these products, but now GMs, sales managers, used car managers and salespeople can access Service Dynamics' user-friendly applications, utilizing trackable metrics. With the evolution to Service Dynamics, the company now offers products that link the sales team more closely to the service department, making it a full dealership approach to improved customer service and higher profitability. By improving communication and interaction between salespeople and returning service customers, salespeople stay involved after the initial sale with improved customer retention and increased repeat sales business.
The recent addition of proprietary Auto Arrival RFID technology supports this new connection while giving the service customer a great customer experience. It packs a tremendous WOW factor for the arriving customer. Not only does RFID welcome customers by name when they arrive in the service department, it also communicates to the service advisor who's arrived so they can greet each customer by name, which gives them a more personal customer experience. It texts the salesperson who originally sold the vehicle that their customer has arrived in service so they can go back and continue the customer relationship and uncover more of the right sales opportunities. Dealerships can even keep track of loaner cars and inventory with Auto Arrival. This product also offers the ability to automatically set a customer's first appointment back for scheduled maintenance. The evolution and uses of RFID technology seem endless.
New for 2013 is the addition of service menus and inspections, which make Service Dynamics' offerings a more robust, bundled service solution for dealerships. Eliminate duplicate entry with a one-and-done solution. Also joining the lineup are Media Boards and Service Menu boards. These new boards complement the Arrival board in the service lane and the Departure board in the customer lounge, increasing customer communication and internal advertising opportunities with dealer-controlled content.
The core product is Shop Watch, a flexible, customizable service management system designed to improve scheduling and communication within auto dealerships, which in turn improves customer service, CSI and trackable profitability. Shop Watch includes service scheduling, real-time web appointments, web status checking, automated route sheets and display boards for an enhanced customer experience. Certified integrations with ADP, Reynolds & Reynolds and DealerTrack enhance user experience. The end result? Better internal and customer communication, accountability, increased profits and customer retention.
About Service Dynamics:
The company was originally founded and developed by Roger Smith, a fixed operations veteran with over 25 years' experience in the auto industry. The products were designed to fill needs within the industry and solve problems that every dealership experiences: such as internal and customer communication, scheduling issues, productivity and how to increase fixed operations profits and retain customers. "The key to customer retention is giving each customer the best service possible and a great customer experience at each service and sales visit, consistently," says Roger Smith, CEO. "Service Dynamics' evolving suite of innovative technology solutions combine to do just that."
To learn more or for a product demo, contact 800-784-0200.