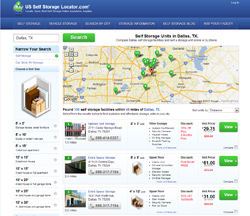 As a Killer Start Up company based out of North Miami Beach, Florida, we are proud that Veritage Mangement, Inc. which has the majority of their properties in sunny Florida has joined our internent marketing platform
North Miami Beach, FL (PRWEB) February 04, 2013
USSelfStorageLocator.com announces Veritage Management, Inc., has become a Network Member of their powerful internet search engine. Veritage Management, Inc., the family owned and managed company is the property, acquisition and management division of Dinwiddie Enterprise, Inc. They presently operate 22 Self Storage facilities, are headquartered in Columbia, Maryland and have an office in Melbourne, Florida, employing approximately 100 people.
The addition of Veritage Management adds roughly 16,0000 storage units, and more than 1.6 million rentable square feet to USSelfStorageLocator.com's inventory. Veritage Manages storage facilities in five states, Florida, Maryland, New Jersey, North Carolina and Virginia. 18 of their facilities are located in Florida. Now searching for self storage in Orlando, self storage in Tampa, or self storage in Sarasota, will get you one step closer to renting a storage unit from one of Veritage Managements great storage facilities.
"As a Killer Start Up company based out of North Miami Beach, Florida, we are proud that Veritage Mangement, Inc. which has the majority of their properties in sunny Florida has joined our internent marketing platform," said Victor Dante, USSelfStorageLocator.com CEO and Founder.
Veritage managed facilities offer climate, non-climate and drive up units. They also provide storage for automobile, boats, trailers, and recreational vehicles. Each one of their facilities have full variety of moving and packing supplies.
About USSelfStorageLocator.com - USSelfStorageLocator.com is the most prominent self storage lead generator in the industry. Consumers are able to locate, compare and reserve a self storage unit online or over the phone. USSelfStorageLocator.com features software integrations with all major property management systems, and the ability to pull data and push reservations in real time. USSelfStorageLocator.com's team is comprised of self storage and technology professionals, and is headquartered in North Miami Beach, Florida, for more information you can contact them at 888-222-0225.