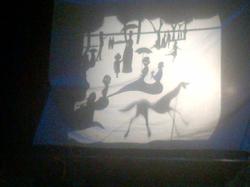 The approach at Into Action Treatment is just like the name says, one of action and movement...
Boynton Beach,Florida (PRWEB) February 02, 2013
The DOG story, a shadow puppet play about an imaginary dog in pursuit of happiness, in the form of a red squeaky ball, was the latest weekend outing for the Into Action Treatment clients. Into Action Treatment Center is a solution based drug and alcohol rehab in South Florida. Andrey Rossin, the founder and CEO of the center, believes in having fun in recovery. The Into Action treatment model teaches clients how to have sober fun in a safe way. Rossin says that a big reason most of his clients relapse is because they are bored and do not have enough excitement in their lives, when compared to the lifestyles they had when they were in active addiction. A big piece of the treatment program at Into Action is focused on getting out into the world, since that is where everyone will end up returning to. The licensed addiction staff at Into Action helps their clients monitor and assess their reactions to the outside world, so they can learn how to live a fun and enjoyable life in their new found sobriety from alcohol and drugs.
Clients of Into Action enjoy beach cookouts every Sunday and activity outings into the community every Saturday which strengthens their awareness and understanding that there's life after drugs. In fact, Rossin says,"Sober life can be lots and lots of fun."
The majority of clients at Into Action Treatment are not new to rehab centers, as most of them have been in multiple centers and struggled with gaining solid recovery from their addictions. Andrey Rossin believes, "For alcoholics and addicts of the hopeless variety, and these are the ones at our facility, helping them to realize that there's a way out and that there's light at the end of the tunnel is a huge victory for us and the clients. It's amazing to see addicts make choices; take responsibility for their actions and not to react impulsively.
Rossin attributes part of this success to the treatment model and integrating clients back into normal life. The approach at Into Action Treatment is just like the name says, one of action and movement, and for most addicts it is a welcome change from the lives they have lived in addiction. They are learning that there are other safer ways to have fun in life, and they can be just as rewarding without the negative long term effects on their lives and families. Much like the play DOG, the clients are learning to have fun in simple ways and realizing that happiness is not found in drugs or alcohol.