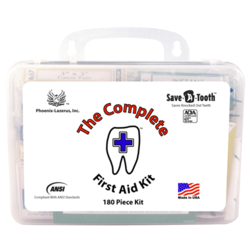 Among 6,000 Contenders, Modern Survival Blog Chooses the "Complete First Aid Kit" as Best of 2012
Wayne, Pa (PRWEB) February 04, 2013
The Modern Survivor Blog points out that having a good first aid kit is one of the most important and most commonly overlooked items to have in the case of emergency. "During and after an emergency or disaster, the immediate priority may not be shelter, water and food; instead it may be treating the injured, which may even be you," says the blog. "For this reason, every person should have a Complete First Aid Kit in both their home and in their car, it says.
The results of his inquiry were based upon four criteria: review data, customer reviews, popularity, and availability on Amazon.com. The Complete First Aid Kit satisfied all of these areas, but also surpassed other available kits on the market because of its inclusion of special items like the Save-A-Tooth®, an emergency knocked out tooth preserving system.
Knocked out teeth are surprisingly common accidents. Over 5 million teeth are knocked out each year and over 90% can be saved for life if stored in the Save-A-Tooth® solution within sixty minutes of the accident. The cost of not being prepared for storing and preserving knocked out teeth is $3,000 initially and $30,000 over a lifetime.
Also included is the CPRotector®, a patented device that blocks the transfer of oral fluids during mouth-to-mouth resuscitation. The inclusion of this item also sets the Complete First Aid Kit apart because it helps to eliminate concerns about HIV, hepatitis and other diseases that many fear can be transmitted when administering CPR.
In addition to its being the most "Complete" first aid kit, the Complete First Aid kit is completely made in the USA and contains the highest quality USA made components. The Save-A-Tooth® has been recommended as a "must-have" for travelers by renowned travel writer, Jeanine Barone on her blog, JTravelauthority.com, and has the Seal of Acceptance of the American Dental Association.
"The Save-A-Tooth® system is so effective at maintaining cell survival that it is the transportation device for preserving tooth cells destined for cell banking and cryopreservation in the Store-A-Tooth, the leader in this field, and potential medical and dental use in dental stem cell therapy," says Dr. Paul Krasner, Professor of Endodontics at Temple University School of Dentistry. "Since teeth can be knocked out anywhere at anytime," he recommends that everyone purchase a Complete First Aid kit right away so they can be prepared.
Phoenix-Lazerus, Inc. manufactures and distributes the Save-A-Tooth® system, the Complete First Aid kit, the Complete First Aid Pro for Dental offices and the Complete Sports First aid kit. It has been in business since 2001 and is dedicated to producing products completely made in the USA with 100% USA-made parts.