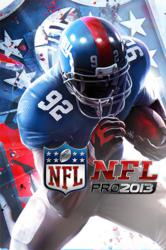 The ultimate free-to-play football simulation.
SAN FRANCISCO (PRWEB) February 03, 2013
To celebrate the biggest football game of the year, Gameloft and Iddiction have teamed up to offer fans of NFL Pro 2013 a super deal to help them get an edge on the competition. Through Iddiction's Appoday app, players who download NFL Pro 2013 by 11:59 PM PT on February 4, 2012 will get $5 worth of in-app currency to upgrade players, unlock plays and upgrade stadiums for the ultimate free-to-play football simulation.
Officially licensed by the National Football League, NFL Pro 2013 allows players to choose their favorite team among any of the 32 franchises. With its exclusive first-person camera, players are fully immersed into the action as if they were actually on the field. And thanks to motion-capture technology, players can enjoy revamped graphics and smoother animations for an even more realistic football experience.
NFL Pro 2013's new management system allows players to control every aspect of their team from hiring players and upgrading their stadium to increase income to practicing their favorite plays to optimize their team's performance.
Pricing and Availability:
NFL Pro 2013 is available immediately for free from the App Store for iPhone, iPad and iPod touch.