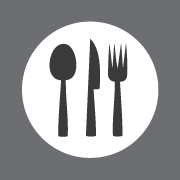 New York, NY (PRWEB) February 05, 2013
Rylio, Inc., founded by two technology enthusiasts from New York, has launched BiteScore, a website and Google Chrome extension which displays public NYC health inspection ratings on online restaurant pages.
BiteScore brings health inspection ratings from restaurant windows to your online browser. Currently integrated with Seamless, OpenTable, Zagat and MenuPages users are able to view current health ratings when accessing restaurant pages. BiteScore conveniently adds a button that seamlessly fits into the website and includes historical records of restaurant inspections. Customers can now identify which restaurants meet their standards when ordering delivery, making reservations, browsing menus or reviews online.
The current website and Chrome extension focuses on the five boroughs and New York City dining. According to NYC Health Department, "salmonella infections have declined since letter grading was implemented." BiteScore plans to help push these efforts by allowing customers to be aware of restaurant grades while sitting behind their desks.
An extensive database, of over 20,000 NYC restaurants, gives users the ability to search on BiteScore.com to easily find inspection results. BiteScore is compatible with Google Chrome for Windows, Mac, Linux and Chromebook.
The project started out with two founders frequently ordering food delivery online and inconveniently having to find the restaurant's health rating. The main goal was to make this public information convenient and available where it was needed. BiteScore was developed and launched to the public to solve this problem.
Any user can visit http://www.BiteScore.com and search for restaurants from any browser. Users who currently have Google Chrome can download the extension from the Chrome web store or by visiting BiteScore.
About Rylio, Inc.
Newly launched BiteScore, a website and Google Chrome extension released by Rylio, brings convenience to online restaurant pages. Founded in New York, the company focuses on bringing awareness of food safety to restaurant customers. Integrated with some of the top online restaurant facilitators, BiteScore adds value that enhances the user experience.