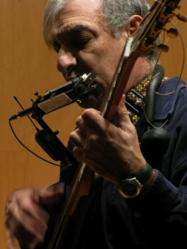 " Amazing technique! Never seen anything like this before"
Ted Curson
New York, NY (PRWEB) February 05, 2013
Enrico Granafei
Jazz harmonica virtuoso, classical guitarist, singer, songwriter, arranger, composer Enrico Granafei has a long history of musical experience which encompasses both Classical Music and Jazz. Enrico After earning a degree in classical guitar from the Conservatory of l'Aquila in Italy , Enrico started to broaden his horizons by discovering Jazz through the harmonica
In 1978 Enrico moved to Germany where he began to perform and to teach in two different "Musikschulen". In the early 80's, after returning to Italy, Enrico started to broaden his horizons by discovering Jazz through the harmonica. Following in the tradition of the legendary Toots Thielemans, he began to explore new possibilities for the harmonica, an instrument too often associated solely with Rock and Blues. Besides playing in the best jazz clubs in Italy during that period, Enrico performed regularly on national television where he was a member of the Pippo Caruso orchestra.
His love for Jazz led him to New York City, the world capital of Jazz,. , where he soon started to perform in local jazz clubs, including The Blue Note, Birdland, Visiones, Angry Squire, and the Bottom Line.
In 1992 Enrico earned a masters' degree in Jazz Performance from the Manhattan School of Music where he was the only student of Toots Thielemans .
During the time that he has resided in the New York area, Enrico has performed extensively on the Chromatic Harmonica in the United States and continued to be a featured musician in major Festivals and Jazz clubs in Finland, Estonia, France, Italy and Hungary.
He has recorded with Eddie Gomez, Eliot Zigmund. Marc Johnson, Adam Nussbaum, Billy Hart, Ted Curson, Nnena Freelon ( Concord Records) and many others.
Enrico's latest accomplishment is his work on Hands-Free-Chromatic Harmonica. The revolutionary instrument invented by Vern Smith allows him to play Chromatic Harmonica and Guitar at the same time.
" The first jazz musician in the world to have played guitar and harmonica at the same time" ..La Repubblica, Italy 2004.
"Innovative, intelligent, soulful" : Stanley Jordan
The eighth Wonder of the World" : Susan Frances
"What he does playing two instruments at the same time is truly amazing: : Bucky Pizzarelli
" He's a genious" Jean-Charles Dukhan, TSF Jazz Radio, Paris, France
The use of the DB guitar, invented by Italian guitarist Nico di Battista, which is a combination of guitar and bass adds yet another dimension to Enrico's playing. Close your eyes and you'll hear an entire combo, but in reality it's only one musician.
Enrico has also been the owner and musical director of the prestigious Trumpets Jazz Club in Montclair, New Jersey (USA), the most important Jazz venue in the state, since 1999.
Enrico's lateste release on CAP Records features Billy Hart, Wallace Roney, Gordon Lane, Diego Lopez, Vis Juris, Dave Stryker