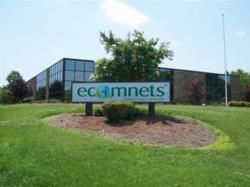 "As a Loudoun County company, it was important that we stay in Northern Virginia and be a part of this movement of emerging companies in the Dulles Corridor "said Raj Kosuri, CEO of EcomNets
Sterling, VA (PRWEB) February 05, 2013
INC 500 Technology company is moving and expanding corporate headquarters to Loudoun Technology Plaza in Sterling, adding to the area's growing tech corridor and enclave of data centers.
EcomNets signed a lease with Edge Commercial Real Estate to occupy a portion of 22,405 square foot building at Manekin Plaza (located at 46050 Manekin). The company is expected to complete the move in early February.
Started in 2000, EcomNets is a pioneering Information Technology company for software, hardware, and services with a focus on Green IT. EcomNets is committed to energy efficient computing from the desktop to the data center. Based in Sterling, the company focuses on Cloud Hosting, Compliance, and Business Continuity within their Danville Data Center facility.
"As a Loudoun County company, it was important that we stay in Northern Virginia and be a part of this movement of emerging companies in the Dulles Corridor "said Raj Kosuri, CEO of EcomNets. "We want to contribute to the growth of our local economy, and support our local citizens and environment. Our move to Loudoun Technology Plaza will help us succeed by allowing us to become more efficient and increase our volume."
The larger space will allow EcomNets to almost double the number of employees and triple the amount of output by year end. All the corporate administrative functions, creative and design work, sales and marketing will be housed at the new location. It currently sales software development, professional services, cloud hosting, and business continuity to commercial, federal, and state and local government clients.
About EcomNets
EcomNets is a world class provider of Sustainable IT Solutions and Cloud Solutions. EcomNets understands the need for Cloud Security, Cloud Back Up, and Disaster Recovery. EcomNets has a data center located in Danville, VA to meet all your cloud needs. We are a CMMi level 3 software solution provider with the experience and technical know-how to deliver customized solutions and support. We'll enable you to respond faster to changing market dynamics by delivering high-quality, cost-effective, and seamless solutions that add value to your business. Our collaborative business experience and solutions include data center, cloud back up, disaster recovery, cloud security, and more. EcomNets develops and markets virtualization-based software and hardware solutions that deliver superior desktop computing. http://www.ecomnets.com