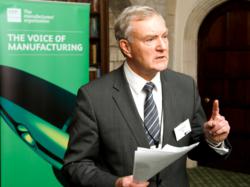 Heavyweight figures from industry, politics and media will address and attend the EEF National Manufacturing Conference on Tuesday 5 March 2013.
(PRWEB UK) 4 February 2013
Timed just ahead of the budget, the conference will tackle the urgent 'Route to Growth' required to promote industrial-led recovery.
Keynote speakers are: Shadow Chancellor, the Rt Hon Ed Balls MP, and former Deputy Prime Minister Lord Heseltine, together with Roland Aurich, Chief Executive of Siemens UK and Jim O'Neill, Chairman of Goldman Sachs Asset Management.
Businesses attending will gain practical advice and insights from leading industry experts on important topics, such as tax, skills, innovation, green investment, innovation, supply chain management and exports and emerging markets.
Industry speakers include Mark Adams, Vice President of Corporate Strategy and Relationship Management for Toyota Motor Europe; Martin Flavell, Vice President HR for Finmeccanica; Dave Benstead, HR Director, Diodes Zetex Semiconductors; Cedric Rodrigues, Director of ENER-G and Douglas Dawson, Managing Director of Caparo. Channel 4 News' Krishnan Guru-Murthy will chair the conference.
Also addressing the audience of senior manufacturing executives will be Michael Davis, Chief Executive of the UK Commission for Employment and Skills; David Smith, Economics Editor of the Sunday Times, and Chris Sullivan, CEO UK Corporate of Royal Bank of Scotland, together with speakers from Lombard, JAM Recruitment, Leyton, SAP and HMRC.
The conference is followed by the EEF Manufacturers' Dinner - featuring guest speakers: Business Secretary, the Rt Hon Dr Vince Cable MP and broadcaster John Sergeant.
Terry Scuoler, EEF Chief Executive, said: "Our conference will deliver an urgent call to the heart of government to champion industrial-led growth on which economic recovery depends. Never before has there been such an urgent need for the joined-up action that could revitalise the nation's fortunes. Many of the UK's leading manufacturers will be gathered at the conference, providing a rare opportunity to share best practice, stimulate debate, solve problems, and gain industry insights and connections."
The conference, sponsored by Lombard and delivered in partnership with JAM Recruitment and The Manufacturer, will take place in the heart of Westminster at the Queen Elizabeth II Conference Centre, followed by dinner at the Dorchester Hotel.
For further information or to register for Route to Growth – The EEF National Manufacturing Conference: http://www.manufacturingconference.co.uk
About EEF, The UK Manufacturers' Organisation:
EEF, the manufacturers' organisation, is the representative voice of manufacturing in the UK. It has a growing membership of almost 6,000 companies of all sizes, employing some 900,000 people from every sector of engineering, manufacturing, engineering construction and technology-based industries.