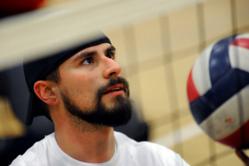 I always give it everything I have, Failure is never an option. - Steve Otero
Colorado Springs, Colorado (PRWEB) February 04, 2013
Steve Otero, Security America Mortgage Public Relations Director and Air Force wounded warrior, participated in the selection camp for the 2013 Warrior Games from Jan. 30 to Feb. 2,.taking place at the U.S. Air Force Academy, Colorado Springs, CO.
Fifty-four candidates participated in the sports camp, which included events such as track and field, basketball, volleyball, swimming, marksmanship and recumbent biking.
More than 200 wounded, ill and injured service members and veterans are expected to participate in the 2013 games. They will comprise five U.S. teams representing the Army, Marine Corps, Navy/Coast Guard, Air Force and U.S. Special Operations Command as well as one international team from the United Kingdom.
"It truly is an honor for me to even be asked to participate in these games", said Otero. "I work to help my fellow Veterans everyday through Security America, and I was so grateful when the Air Force called a few months ago and asked for my participation."
The Warrior Games are a means for various service members to use sportsmanship to build camaraderie within the military community and celebrate their recoveries.
Many Airmen have served honorably in the Air Force, but due to wounds, illnesses or injuries are no longer able to serve in the capacities they did before. The Warrior Games gives those Airmen a chance to serve again.
The games, scheduled for May 11-17 in Colorado Springs, are designed to introduce ill, injured or wounded service members to Paralympics sports. The Air Force team is composed of 40 active-duty and Reserve Airmen from across the country. Their injuries range from post-traumatic stress disorder to quadriplegia.
An Air Force Wounded Warrior is any Airman who has an injury or illness that may require long-term care or a medical or physical evaluation board to determine fitness for duty.
The next training camp, scheduled April 14-20, is an intense sport-specific training camp, for the 40-member Air Force Warrior team.
The final week is the actual week-long competition, an Olympic-style event held at the U.S. Olympic Training Center and Air Force Academy, both in Colorado Springs.
"We are proud to host the Warrior Games at the U.S. Olympic Training Center and the Air Force Academy," said Charlie Huebner, the USOC Chief of Paralympics. "Paralympic sport has a tremendously positive impact on individuals with physical disabilities, and the Warrior Games allow us to salute these fine young men and women who have served their countries honorably."
Initially, the athletes will travel to San Antonio for multiple adaptive sports programs to give them experience in the different sports. Then, during three separate one-week blocks, the potential team members are involved in steps leading to and participation in the actual competition.
"There are about 6,000 Air Force wounded warriors and the Warrior Games are open to all of them," said Maj. (Dr.) James Bales, the head coach for the Air Force Warrior Games team.
"I was a collegiate swimmer at the (U.S. Air Force Academy) and have participated in many triathlons," Bales said. "In fact, I have a professional license in the sport. While I was in medical school and residency, I commuted 20 miles every day, either by cycling or running."
While not every athlete in the games is a triathlete, they all speak with a passion.
"I am here to compete. Plain and simple ... I will fight as hard as I can, and if the Air Force asks me to be a part of the team, I will answer their charge", said Otero.