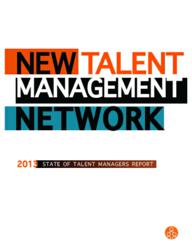 "You shouldn't ask for a 'seat at the table' if you have no interest in what's being served there."
New York, NY (PRWEB) February 04, 2013
Human Resource leaders are fundamentally misaligned with their company's business agenda, strongly preferring "to help people grow and develop" rather than "help my company to maximize its profitability" according to a new survey of the profession. 77% of respondents said they chose an HR career for Humanistic reasons. The findings, from the New Talent Management Network's 2013 State of Talent Managers report released today, could reinforce perceptions that HR leaders advance a non-business agenda. The few respondents with predominantly Capitalistic reasons for being in HR perceived faster career growth and were more willing to sacrifice to achieve career success.
The findings are troublesome for a profession already marginalized in many companies, according to survey author Marc Effron, founder of the New Talent Management Network:
"While HR leaders use the title Business Partner, they've declared that business is not their primary interest. While they may see themselves as a necessary counter-balance to the unbridled pursuit of profits, they're actually working against their own employer. You shouldn't ask for a 'seat at the table' if you have no interest in what's being served there."
The annual survey of talent management and HR leaders also found that only 11% of the 720 respondents desired a C-Suite role, and just 25% wanted to be a Chief Human Resource Officer. The majority of those in the HR sub-functions of talent management and learning and development did not want to move outside their narrow domain. According to Effron, this mutes HR's influence on the company agenda since few C-suite leaders will have had first-hand HR experience.
The survey shows that HR and talent leaders don't believe that their views negatively impact their influence in the organization. 68% rated themselves as Role Models or Very Capable of being a Trusted Executive Advisor. 80% of HR business partners rated themselves Role Models or Very Capable across six talent management capabilities. The complete report is available at http://bit.ly/14JEEcy
# # #
The New Talent Management Network is the world's largest network of talent management professionals with more than 2,800 members worldwide. It is a member run, not-for-profit organization focused on increasing the impact of talent management professionals. For more information, visit http://www.newtmn.com
If you'd like more information about this topic, or to schedule an interview with Marc Effron, please call 1 347 346 1255 or email marc(at)newtmn(dot)com