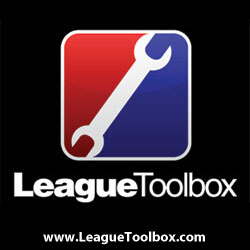 LeagueToolbox League Management Software Offers Online League Registration
(PRWEB) February 08, 2013
In this day and age it simply doesn't make sense to have people filling out paper forms.
Every sports league starts with the process of registration. Registration can mean different things for different sports but it in every case it is the impetus to running a successful league whether it be youth or adult.
Registration can make and break a sports league. LeagueToolbox makes leagues stand out from the rest with amazing software that solves all registration headaches, errors and confusion.
Some of what LeaugueToolbox offers:
1. Online Registration
2. Easy import of offline registration.
3. Online payments.
4. Customization of fields for any information a league requires.
5. Printable PDF reports or download data via Excel export.
6. Refunds directly deposited to registrants bank account.
Registration for Players, Coaches, Officials and Teams can all be individually setup through LeagueToolbox.
The attention to detail with which this league registration tool was built leaves nothing to chance. Every element of offline registration has been adapted into this online process along with bells and whistles that can't be believed until they are seen. On top of it, offline registration can be imported online with a flick of a switch. So it is never too late to take advantage of what LeagueToolbox offers, regardless of whether registration is complete or the league has started.
The best news is the free 30 day trial. LeagueToolbox offers a 30 day free trial of their league software with absolutely no risk or commitment. No payment details required.
Simply sign up and give it a shot.