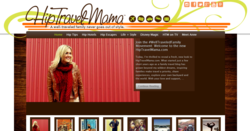 "Being well-traveled never goes out of fashion." - Anne Taylor Hartzell, founder of HipTravelMama.com
Seattle, WA (PRWEB) February 05, 2013
HipTravelMama.com, founded by travel expert Anne Taylor Hartzell, announced today a new, fresh look to the award-winning family travel blog aimed at inspiring families to make travel a priority. The revamped site encourages parents to teach their kids the value of exploring and shares the perks of being a #welltraveledfamily.
"Being well-traveled never goes out of fashion," said Anne Taylor Hartzell, founder of HipTravelMama.com. "The new HipTravelMama.com is centered on helping parents raise kids who are well-traveled, while saving families time and money. It's imperative to make the most of those fleeting family moments; traveling as a family gives you an opportunity to build unique memories."
The new HipTravelMama.com site is more video-centric, with short, weekly video clips featuring travel expert Anne Taylor Hartzell. Content inspires traveling families to explore the world with their kids via new, easily navigated sections:

Hip Tips: travel tips for families
Hip Hotels: hotel reviews and destinations
Hip Escapes: sun, beach vacations, ski vacation, city and wine country getaways
Life + Style: travel fashion, style tips for Hip moms
Disney magic: the latest on Disney experiences, parks, hotels, cruises and adventures
Hip Travel Mama on TV: clips from Hip Travel Mama's television and YouTube segments
With more than 16 years experience working with technology and travel brands, founder Anne Taylor Hartzell, also known as Hip Travel Mama, will feature Q&A interviews with travel industry thought leaders to share insider tips for planning your next vacation, new tools for finding great deals on hotels, airfare and travel experiences. If travelers need an expert on seasonal travel, for spring break, summer vacations, or school holidays, HipTravelMama.com is the site to visit. Hip Travel Mama partners with brands who share the same commitment to creating amazing travel experiences. Whether your travel destinations are on the other side of the globe, the opposite side of the country, or a neighboring town, Hip Travel Mama offers smart, practical advice for getting families out the door to experience the world.
"Kids grow fast, and before you know it, they are grown and gone," continues Anne Taylor Hartzell, "I want HipTravelMama.com to be an inspiration for other parents to make the most of precious family moments. Exploring other cultures and taking time out together, helps put the focus back on what matters most – a compassionate, connected family."
Join the #welltraveledfamily Movement
Hip Travel Mama is encouraging viewers and readers to join the #welltraveledfamily movement and share how they are raising well-traveled families. Readers can participate by tweeting and sharing dream destinations using the hashtag #welltraveledfamily in a tweet to @HipTravelMama on Twitter, or by posting or "liking" content on the HipTravelMama Facebook page.
About Hip Travel Mama.com
Founded in 2008, HipTravelMama.com is an award-winning blog that provides inspiration, travel tips, hotel and destination reviews for the well-traveled family. Anne Taylor Hartzell, a.k.a. Hip Travel Mama, is a nationally recognized family travel expert, inspiring families to share travel experiences and explore the world together. Hip Travel Mama is a frequent broadcast media expert, has appeared on the TODAY Show, USA Today, CNN.com, CNTraveler.com, and more than 30 broadcast TV outlets across the country. With more than 16 years experience as a brand ambassador for companies such as Starwood Hotels and Resorts, Expedia, Disney, Kimpton Hotels, Bing, Farecast, and others, Hip Travel Mama helps brands inspire and engage influential travelers via broadcast media, social media and the blogosphere.. Connect with Hip Travel Mama's video log, Hip Travel Mama on Facebook and @HipTravelMama on Twitter.