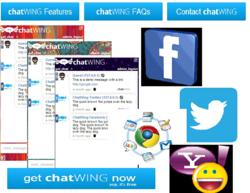 Cambridge, MA (PRWEB) February 06, 2013
Chatwing's developers have recently visited online communities with the goal of sharing important web surfing tips. According to the developers of the company, their simple chat box holds the key to a better communication rate and information relay. The chat tool is embeddable and ensures continuous visibility to any website. It also deals in real-time communication, so web surfing can be accomplished with relative ease.
Niche importance is one of the factors emphasized by Chatwing's developers. All niches are important to different groups of people and this importance varies from one niche over another. Through the Chatwing chat software, website owners can now focus on achieving popularity in any niche. Once embedded, the Chatwing app can deliver enhanced visibility by more than 60%. This rate is affected by the website's content and the owner's marketing effort.
The team has also emphasized that focus is an undying factor—it is a must-have for the average web surfer. Since there are hundreds of information sources in the Internet, web surfers tend to jump from one website to another. Chatwing chatbox improves focus by allowing visitors to contribute information about the niche covered by the website. Now, information seekers can focus and get the data they truly need. On average, the Chatwing chatroom accommodates thousands of users, so the potential of communication is high.
Every now and then, Chatwing.com is offering helpful tips in their blogs and chat apps. The developers are also planning to visit many online communities in order to help web users gain the proper online support they need.
About Chatwing.com
Chatwing.com specializes in the new field of website chat. Over years, the development team has introduced live chat widget for hundreds and thousands of blogs. The application bridges people from many parts of the world, creating global synergy through the Internet. The shout box can be installed in just seconds, and it can be used for varying purposes such as leisure and Internet marketing. It also allows a user to customize the size, color, and name of the widget.
# # #