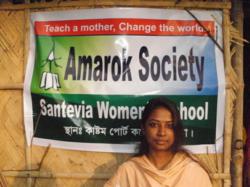 The school will teach women and children who are in desperate poverty.

-Yvonne Anderson
Delta, B.C. (PRWEB) February 06, 2013
Teach a mother, change the world. This simple phrase is the motto of the Amarok Society, a Canadian non-profit organization that helps educate impoverished mothers in South Asia. Earlier this month, the society opened a new school with the help of a $10,000 donation from Delta, B.C. based Santevia Water Systems.
"As part of our Santevia Gives Back program, we have decided to sponsor a school in Khulna, Bangladesh — the poorest country in the world," said Santevia CEO Yvonne Anderson.
"The school will teach women and children who are in desperate poverty."
Santevia Gives Back is a philanthropic program that also helps people in need around the world. Recently, SGB provided funds to an orphanage in Indonesia to purchase a rototiller plow so the residents could become self-sufficient.
The new school in Khulna is situated in a large slum inside the city of Khulna that is populated by about 350 families. Up to three families often inhabit a 10-foot by 8-foot room. Many of the families are of Behari background, who after the Bangladeshi war of independence, have lived in limbo without Bangladeshi citizenship and disavowed by Pakistan.
About the Amarok Society
Amarok Society teaches uneducated mothers how to read and write, and then teaches the mothers to be neighbourhood teachers – educating their own and their neighbours' children every day in their homes, with astonishing result. The Amarok Society received charitable status in Canada in 2008 and in Bangladesh in 2011.
About Santevia
Santevia Water Systems Inc., located in Delta, B.C. Canada, manufactures and distributes water filtration and mineralization products creating alkaline water in convenient, eco-friendly and cost-effective ways. Santevia revitalizes tap water by adding essential minerals creating alkaline, pH balanced water helping your body combat disease and stay healthy. Santevia also donates 10% of all profits to the Santevia Gives Back program which supports projects providing food, shelter, education and clean drinking water to those less fortunate.