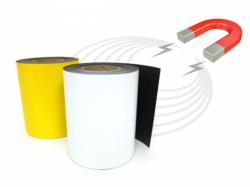 "The magnetic tape is very easy to use when we need to change out racks when new inventory is replaced. "
Lake Oswego, OR (PRWEB) February 05, 2013
Most businesses from office to industrial plants are equipped with metal racks, shelves, and equipment that require identification. Inventory of office supplies, production supplies, etc that are stored on metal shelves or racks need to be identified and the ideal solution for marking metal is by the use of magnetic labels. Creative Safety Supply is now offering magnetic tape that has a strong magnetic backing for multiple uses where signs or labels require sticking to metal and where changes or readjustments are required from time to time. Many times changes or additions need to be made to bin locations and the magnetic label is easy to remove without any sticky adhesive remains.
The magnetic tape is both UV and chemical resistant making it ideal for labeling racks or shelves that are storing paint, stain, cleaning supplies, and other chemicals required for conducting business. The tape will work with both LabelTac 4 and LabelTac 4 PRO printers creating quality custom printed labels unique for any type of business needs.
Metal doors are typically seen in facilities and the magnetic tape is great for identifying what is behind the door, marking the door as an exit, or marking it as a no entry zone. A refrigerator contained with hazardous material that needs to be kept cold can now be marked with the magnetic tape warning personnel of toxics contained in the refrigerator.
By properly marking metal shelves or entryways, will help instill safety in the workplace and will also promote less confusion and a lean facility. The magnetic tape is a great tool for any 5s or lean program. A plant supervisor commented, "The magnetic tape is very easy to use when we need to change out racks when new inventory is replaced."
For more information about magnetic tape, please visit http://www.creativesafetysupply.com/lt-magnetic-stock/ or call toll-free (866)777-1360 to speak with a professional representative.
# # #