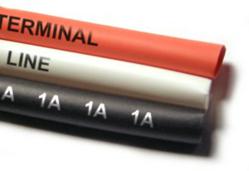 "We use to have all kinds of wires and cables entwined and unmarked. The Printable Shrink Tube is a great product to keep everything clean and identified."
Lake Oswego, OR (PRWEB) February 06, 2013
Office, industrial and manufacturing businesses all operate with some type of machinery such as computers, faxes, phones, assembly machines that involves cables and wires. LT Printable Shrink Tubes, now offered through Creative Safety Supply, are the perfect solution to identify all those cables and wires that run behind desks and machinery and across open floors. The printable shrink tubes will keep any workplace organized and will promote safety by identifying cords that could possibly be dangerous if unhooked or moved improperly. The Printable Shrink Tubes are a great solution for insulating splices and terminations, as well as providing fire-protection and insulation.
The Printable Shrink Tube will keep cables and wires in and around the work area organized so they don't become a big mess of tangled wires. By utilizing the shrink tubes will help with safety concerns of possible tripping over wires or cables. When machinery need to be moved from one area to the next, wires and cables that have been identified with the shrink tube, will make the project run more efficient and quickly. No more guessing what wire or cable goes to what machine or outlet. Less time spent on guessing where wires or cables go is more time made for productivity.
The tubes can be printed from either the LabelTac 4 or LabelTac 4 PRO Thermal printers. They are highly resistant to either cold or hot environments, operating under temperatures of -65F to +275F. The tubes are printed with large enough text so they are visually present. A business owner commented, "We use to have all kinds of wires and cables entwined and unmarked. The Printable Shrink Tube is a great product to keep everything clean and identified."
For more information about LT Printable Shrink Tube, please visit http://www.creativesafetysupply.com/LT-Printable-Shrink-Tube/ or call toll-free (866)777-1360 to speak with a professional representative.