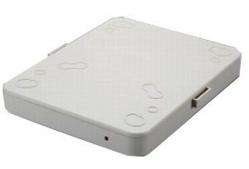 "We found the rechargeable battery packs a life saver when it comes to using our LabelTac printers on the job site. We can print labels as we need them without having to go back to the office to make labels."
Lake Oswego, OR (PRWEB) February 11, 2013
Rechargeable battery packs for label printers come in handy when there is no power source available to plug in a printer to make labels. Many times a job project requires making labels in a remote area such as a construction site, roadway improvement site, or a remodeling zone where electrical power has been shut off. Creative Safety Supply is now offering rechargeable LabelTac Battery Packs which will allow users of LabelTac desktop printers to print wherever they want, independent from power.
The LabelTac Battery Pack is a cost-effective option that allows portable stand-alone printing with any laptop. The battery can be used with the LabelTac Pro and the LabelTac 4 printers, also available through Creative Safety Supply. Once the battery has been charged, it will be able to produce quality labels for many hours of use. A construction supervisor commented, "We found the rechargeable battery packs a life saver when it comes to using our LabelTac printers on the job site. We can print labels as we need them without having to go back to the office to make labels."
Electrical power is typically not installed in new construction sites until later on in the project and when it comes to labeling pipes that have been installed in buildings, the user will be able to produce pipe labels on site quickly and with ease. Battery packs are a great solution for when power goes off due to weather or an electrical malfunction. Projects are not delayed and workers can continue to do their jobs even when there is no electrical power.
For more information about LabelTac Battery Pack, please visit http://www.creativesafetysupply.com/labeltac-battery-pack/ or call toll-free (866)777-1360 to speak with a professional and knowledgeable representative who will be able to answer all your questions.