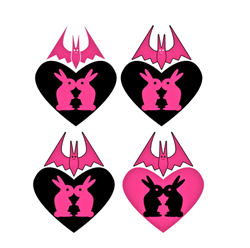 "Be Safe+Have Fun" Moto Tags (tm)
Alexandria, VA (PRWEB) February 07, 2013
Erica Paige Schumacher, founder and product designer for Bat and Bunny, has been awarded U.S. Patent No. 8,317,340 from the U.S. Patent and Trademark Office (USPTO) entitled, "Image Reflecting Adhesive Patch." These Reflective Apparel Patches and Tags (R.A.P.T.) can be emblazoned with any number of designs and are convenient, affordable, fashionable, and reflective even in very low light conditions, making them the ideal solution for increased nighttime or daytime visibility.
Bat and Bunny's R.A.P.T. patches offer several advantages over traditional reflectors. Unlike hard plastic reflectors that must be attached to a rigid surface such as a bicycle or skateboard, a R.A.P.T. patch's adhesive backing can be attached to both hard and soft surfaces including fabric, cars, or even skin. And unlike clothing or footwear manufactured with reflective or florescent materials that come in a limited number of styles, R.A.P.T. patches can be attached to any garment or bag, allowing for a wider range of self-expression. Because R.A.P.T. patches can be printed with characters, logos, or designs, parents can buy patches for their children and teenagers that they will actually want to wear. R.A.P.T. patches can also be attached to car windows to increase visibility for drivers.
Bat and Bunny offers R.A.P.T. patches for sale on their website featuring designs by the artist Damion Silver. Now that the product prototype has been patented, however, Schumacher hopes to have her product manufactured on a larger scale by concerned companies parents trust, featuring all manner of licensed characters, designs, or logos.
"The idea was for parents shopping for their kids to purchase something fun, useful, and artistic, but that will also add peace of mind and real visible safety presence at night for children and teens walking or riding on busy roads," said Schumacher. "This is a brand new technology for kids' safety and pedestrian awareness."
About Bat and Bunny:
Bat & Bunny researched, designed, and produced these reflective apparel fashion accessories that increase child, teen, driver and pedestrian safety. This is: Art that Moves. Prototype Sample Packages, Press Kits and Information Packages available upon request.
Contact:
Erica Paige Schumacher, product designer/inventor
Bat and Bunny/Moto Tags (tm)
email: ericapaigeschumacher(at)gmail(dot)com
http://www.batnbunnystudio.bigcartel.com