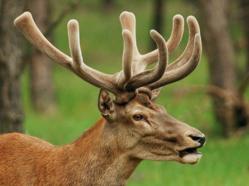 Deer velvet antler, in its natural state, will never be banned
Los Angeles, CA (PRWEB) February 06, 2013
Deer velvet antler is a hot topic these days. Interest in the supplement has been sky high ever since Sports Illustrated reported of Baltimore Ravens linebacker Ray Lewis' alleged usage of deer velvet antler pills and extract to help him recover from a torn triceps injury. Until recently, deer velvet antler has been unknown to most of the general public. Now nearly everyone has heard about it. Unfortunately, there has been a lot of misinformation in the media about deer velvet antler.
What is deer velvet antler?
Deer velvet antler is antler in its growth stage. The name comes from the fuzzy covering that forms over antlers during this time. "Deer velvet antler supplements are not made from the outermost layer of skin as most media reports incorrectly state," said Eric Knight, a representative of Antler Farms, a New Zealand deer velvet antler manufacturer. "They are made from the antler themselves."
"When antlers are growing, they are soft and spongy and full of nutrients," Knight explained. "The antlers are removed before they harden."
Another misconception is that deer are killed for their antler. "Deer grow and shed their antlers every year. No deer are harmed in the process," Knight stated. In New Zealand, regulations require that the antler removal procedure is performed by a licensed veterinarian.
Is deer velvet antler a new supplement?
Despite its recent popularity, deer velvet antler usage is nothing new. Deer velvet antler has been used for thousands of years in Traditional Chinese Medicine. It was introduced to the Western world in the 1960's by Russian bodybuilders who used it to increase muscle strength. "There have been studies in Russia, Korea, China, Japan, Australia and New Zealand," Knight said. "Almost 250 papers have been published since 1930 on the effects of deer velvet antler. We know it works."
Knight stated that Antler Farms supplies deer velvet antler to many athletes around the world who take the supplement as part of their training regimen. These athletes, according to Knight, understand that deer velvet antler produces a wide range of performance enhancing benefits, including increases in strength, more endurance and shortened recovery time. "But not everyone who takes deer velvet antler is trying to be more athletic," Knight stated. "A good portion of our clientele is comprised of normal, everyday people, who take the product for general health and just want a better quality of life."
How does it work?
The exact mechanism is unclear. Deer velvet antler is comprised of nearly 40 key compounds and 400 active ingredients, including amino acids, IGF-1 and 2, glycosaminoglycans and lipids. Scientists believe that deer velvet antler has an effect on many systems of the body given its complex chemical composition. The active ingredients in deer velvet antler are mostly precursors that are required by the body to process substances that maintain its health and well-being. Therefore, deer velvet antler stimulates the body's own systems to protect, strengthen and restore functions that are out of balance. It restores homeostasis to an unbalanced body by helping where it is needed.
Is deer velvet antler a banned substance in professional sports?
It depends. Deer velvet antler is available in three forms: extract, dried slices, powdered (capsules).
Deer velvet antler extract is made by isolating IGF-1 (insulin growth factor) and blending it with other chemicals. It is an altered substance made in a laboratory. The extract is taken sublingually and is absorbed into the bloodstream. IGF-1 is a banned substance in professional sports and therefore use of the extract is prohibited.
Dried deer velvet antler slices and dried deer velvet antler powder are natural forms of deer velvet antler. The slices are used to make tea in Traditional Chinese Medicine. The powder is encapsulated in products like Antler Farms deer velvet antler.
"Our product is a 100% natural food," Knight says. "It is made by grinding dried deer velvet antler into a powder, with no other processing. It is safer than any drug because it is a whole food that acts on the whole body. Deer velvet antler, in its natural state, will never be banned. It would be like banning other natural sources of IGF-1, like milk and eggs."
-------------------------------------
ABOUT ANTLER FARMS
Antler Farms is a manufacturer of 100% pure deer velvet antler. Made in the rolling hills of beautiful New Zealand, Antler Farms deer velvet antler is the highest quality deer velvet antler in the world.
Visit http://www.AntlerFarms.com for more information.