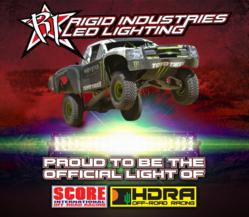 Rigid Industries is honored to become the official lighting company for the future of desert racing
Mesa, AZ (PRWEB) February 04, 2013
Rigid Industries is named the official Light of SCORE, HDRA and the World Championship of Desert Racing. Bold new changes in off-road racing lay ahead after the announcement this year that combined points from HDRA and the SCORE Desert Series will be used to determine the World Championship of Desert Racing. With many new ideas and exciting plans in the works, it makes sense to incorporate the latest technology when it comes to naming the official light of the three series.
"SCORE will continue to help evolve our sport of desert racing and with the technology of Rigid Industries LED lights, this exciting sponsorship is a major stepping stone in that process," said Norman in making the announcement. "Rigid likes to refer to their racers as being on the 'torture team' that tests their products and now both SCORE and HDRA will add a new level of 'torture' to their research and development."
'Torture Team' desert racers like BJ Baldwin, the first solo driver to overall with LED lights at the Baja 1000, Justin Davis, The COPS team, Canidae racing, Steve Hengeveld, Brandon Arthur, Shawn Croll, Nick Tonelli, Milk-n-It Motorsports and others will be leading the way into the future of off-road racing.
"Rigid Industries is honored to become the official lighting company for the future of desert racing with Roger Norman's purchase of SCORE International and the revival of HDRA," commented Taylor Anderson, Marketing Director and co-owner of Rigid Industries. "Sal Fish will be missed for all of the contributions he made in laying the foundation for this sport but we also know that Roger will launch desert racing into amazing new frontiers."
Rigid Industries pioneered the forward projecting, high intensity LED light bar. With two manufacturing facilities, one in Mesa, Arizona and the other in Gilbert Arizona, they are the industry leader in efficient LED lighting solutions while still maintaining class leading affordability for a domestic manufacturer. Their patented Hybrid and Specter optics systems combined with state of the art electronics and latest LED binning makes their LED lighting second to none. Rigid Industries patented technology allows their lights to project up to 40% greater LUX, while drawing less power than most competitors.
To download the 2013 Rigid Industries catalog please visit http://rigidindustries.com/Catalog
About Rigid Industries:
Established in 2001, Rigid Industries has become a world leader in the vehicular mounted LED Lighting Industry. Rigid LED Lighting Products can be used for Off-Road LED Lighting, Military LED Lighting, Agricultural LED Lighting as well as Marine LED Lighting. Rigid Industries is committed to supporting their customers and the industries they work in by continuously developing new product lines to meet their needs. Rigid Industries now has design, customer service, sales and manufacturing all headquartered in Mesa, Arizona. For more information please visit http://www.RigidIndustries.com