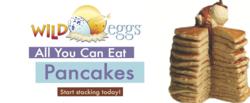 "We have a family friend named Frank, and boy, does he love his pancakes," said Wild Eggs Colorado co-owner Mike Rothberg. "And so do we, which is why our light and fluffy buttermilk pancakes are made with his family recipe."
DENVER, Colo. (PRWEB) February 04, 2013
Wild Eggs – a family-owned breakfast restaurant in Wash Park – is celebrating Pancake Month (February) with an "All You Can Eat" pancake promotion from Feb. 4 through Feb. 28. Just days after whisking its four millionth egg and giving away free breakfast for two to one lucky winner Brian Motykowski, Wild Eggs decided to give guests another stack of reasons to love breakfast.
"We have a family friend named Frank, and boy, does he love his pancakes," said Wild Eggs Colorado co-owner Mike Rothberg. "And so do we, which is why our light and fluffy buttermilk pancakes are made with his family recipe."
Frank's Cakes Big Stack normally comes with three buttermilk cakes topped with whipped butter, powdered sugar and syrup. Starting today, guests can enjoy a bottomless Big Stack for just $5.99, and a gluten-free option is available. In addition, Wild Eggs Frank's Cakes comes in three other signature flavors: "Violet You're Turning Violet" blueberry pancakes, "Raspberries and Lemons Oh My!" topped with raspberry sauce, and the newest addition called "Strawberry Tall Cakes."
Back in September 2012, the Louisville, Ky. location hosted the Major League Eating National Pancake Eating Championship, a professional eating competition sanctioned by the International Federation of Competitive Eating. Patrick "Deep Dish" Bertoletti, the second-ranked eater in the world, set a new world record by downing 50 Frank's Cakes. This will be an annual event for Wild Eggs.
For more information on Wild Eggs, visit http://www.wildeggs.com. Join the morning conversation on Facebook and Twitter.
# # #
About Wild Eggs Colorado
Wild Eggs is a contemporary breakfast, brunch and lunch restaurant that originally hatched in Louisville, Ky. in 2007, before finding its way back to its Colorado roots in August 2011. Today, the restaurant operates a total of four locations: one in Colorado and three in Kentucky. Wild Eggs is open daily for breakfast and lunch from 6:30 a.m. to 2:30 p.m. on weekdays and 7 a.m. to 3 p.m. on weekends.