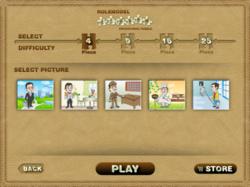 (PRWEB) February 05, 2013
Dev IT Solutions, a well known name in IT Solutions industry, is now claiming its fame by launching exceptional educational mobile apps for iPhone and iPad and this time it is – Role Model Jigsaw. Though currently, it is available for iPhone and iPad, the company will soon launch for other mobile platforms such as Android, Blackberry and Windows Mobile. This application is designed for the kids to provide dual skill as they can challenge themselves with unique type of jigsaw puzzle that needs the assembly of different tiny pieces that turns to be the image of a person that could be the Role Model for the child.
Talking about this latest mobile app from the company, a senior executive from Dev IT Solutions said, "We are pleased to introduce this mobile app that is educational in nature. At one hand, this is an entertaining game that improves motor skills of the child and other hand, it improves the knowledge and language. "
Dev IT Solutions, with the help of its team of expert developers, has always brought out the IT and mobile applications that deliver multiple benefits for the users. This mobile app is designed to inspire and educate children by helping them to identify their Role Models. Each piece is the small part of the Role model in Action and once the jigsaw puzzle is completed; they get excited by the image revealed. Since this is a mobile app, it is completely interactive and action-filled. Once the user moves any piece of the puzzle, they get an instant response and will be complemented by a star studded celebratory sound whenever a piece is placed at right place.
Adding further, the executive said, "There are 3 difficulty levels ((2x2, 3x3, 4x4, 5x5) and choice of the Role Model to start a new game. We have put together right mix of Role Models images from different fields to help the user get right information. There will be a set of 5 role model images with every purchase package. Moreover, user can share his or her achievement with their friends in Facebook and twitter with a single tap,"
For more information, visit http://www.devitsolutions.com/devitmobileapplication/
About Dev IT Solutions
Dev IT Solutions is one of the leading companies providing cutting-edge solutions for Mobile Application Development on various platforms. It has a dedicated team for Development of Mobile Applications i.e. iPhone Application Development, Android Application Development, Blackberry Application Development and Window Mobile Application Development.
Contact:
Dev IT Solutions Pvt. Ltd.
A-302, Shapth Hexa, Opp. High Court
S.G. Highway, Sola - 380060
1-760-621-3474
Email:info(at)DevITSolutions.com
iPhone, iPad are trademarks of Apple Inc., Android is trademarks of Google Inc., Blackberry is trademarks of RIM Inc., Windows is trademarks of Microsoft Inc.