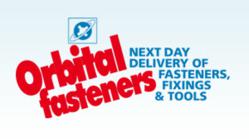 The bits we stock are the best in the business and will last for years before needing to be replaced
San Fransisco, CA (PRWEB) February 04, 2013
Orbital Fasteners are an online retailer serving the United Kingdom who made their start in fasteners and fixings. Since the success of their format and their growing reputation, they have branched out into the provision of other tradesman's items, all with the same dedication to quality, affordability and speedy delivery.
Their selection of products includes almost anything which customers could be looking for from self tapping screws and dome nuts to safety work wear and drill bits. They price themselves offering only the very highest quality of products and, for example, their range of drill bits includes only the best makes and brands for durability, finish and effectiveness. Bosch, HSS and Dormer drill bits are available in individual sizes, sets, and specialty tips and lengths. With rolled and ground drill bits, stub bits, din 338 bits and cobalt jobber bits, the completeness of the new service is not in question.
"While there are almost certainly cheaper bits somewhere out there on the internet, they won't look so cheap after buying five of them in six months," a spokesman argued, "the bits we stock are the best in the business and will last for years before needing to be replaced. Our prices are some of the most competitive on the web and beat the shops hands down, so it's a smart investment for any serious tradesman or DIY enthusiast."
What might seem like hot air coming from any typical salesman is given weight by the company's near impeccable reputation with customers, as attested to loud and clear on their home page, scoring a 4.8 out of 5 across nearly 1200 reviews submitted.
Their spokesman explained, "Quality of products, quality of service, quality of delivery. Quality is our single most important core value and we emphasise it in everything we do. In supplying this new range of tools, we're improving the quality of our service for many faithful customers who have asked requested that we stock these items. They want our service made available for all their trade and DIY needs, so we're working toward achieving that."
About Orbital Fasteners: Orbital Fasteners are a leading UK based online retailer who offer a wide range of supplies for both tradesmen and DIYers. Their inventory includes fasteners, fixings, tools, safety equipment, support systems and more. For more information, please visit: http://www.orbitalfasteners.co.uk/
This press release was written and distributed on behalf of Orbital Fasteners by Brand Outreach, an online brand management agency that helps businesses grow and protect their online brand.